The Daily Rossman (est. 1975) is the world's oldest web B.L.O.G.G. (Bitchin' Legendary Online Godcomplex Gazette). Not that I live an extraordinary life or anything (the government hit squads and the Ninja Assassins Guild have all cut back on their programs directed at ME lately, mostly thanks to a couple of well-placed letters in Jimmy Jammer's handwriting threatening all of their mothers), but sometimes I do accidentally maim a couple of dozen people, or unwittingly have my robot kill an assload of old folks; and I find that I want to share these happy stories with you, the general public.
And just in case you couldn't tell, this place is not meant for goddamn children. If your kids are reading this shit, it means that you failed as parents. Don't blame me.


Note to self 399: 5/15/2013
This past weekend Cupcake and I went to The Melting Pot for fondue and boiling oil and stuff, and I burned myself, and had to get a skin graft, and the only place they could find a perfect piece of skin to cover up my melted-by-cheese face was my buttocks... So now apparently I'm "Mr. Buttface." Yaaaaay for cute nicknames...
Beyond that I recently finished the book Ready Player One, by Earnest Cline. I want to be inside this book so bad, and not even in a sexual way. Well, not ONLY in a sexual way.
The main crux of this uber-geeky sci-fi novel is that there's a fully-immersive, massively multiplayer, online, sci-fi universe in the near future called the OASIS. The OASIS is thousands of planets large, filled with sci-fi themed worlds, magic themed worlds, planets based on Star Wars, some all about Lord of the Rings, entire video game arcade worlds, etc... And they all completely rock!
This got me thinking. So I called up Bob From the Future, asked him if something like the OASIS ever really existed at any point in the future, and when he enthusiastically told me "You betcha there is! And it is the thing of dreams!" I made him take me to it.
The PENISS System of 2148AD (I don't even think that's an acronym or anything, that's just it's name) was pretty cool to see in action via video feeds of the virtual world, but in order to actually play it I would have needed a set of cybernetic enhancements installed INSIDE my eyeballs, and a fairly large plastic shaft up my Hershey highway (for whatever unpleasant reason... I never did ask. It wasn't going to happen, so there was no need to question the whys). I said "No thank you, and by that I mean I don't really thank you but don't want to get stranded this far a-when from my own time, so I'm trying to be pleasant. Now, is there anything OASISy somewhere in the future that DOESN'T require any implants or anal plugs?"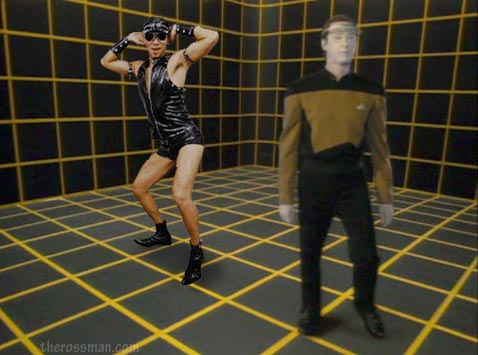 Bob From the Future then laughed a little, face-palmed himself and said, "Oh silly me! Of course! You want to see the PENISS System Mark 45.01! The MEGA-PENISS!" I said "Sure, why the hell not. Mega-PENISS me," and so he took me to the year 2560, and I came face to face with the fucking Star Trek: TNG holodeck! I stepped into the booth of the Public PENISS System rental space that Bob From the Future had helped me rent for the hour (I was able to log on with a scan of my DNA, which is apparently a close enough match to a distant descendant that the computer just shrugged and charged Jambo Masterplex Ross III the $$5500,500 hourly fee with no hesitation at all. Sorry, great-great-great-etc grandson Jambo!).
It. Was. GLORius! I ran around killing monsters with hard-light holograms of Link and Samus, reenacted movies like Predator, Billy Madison, and The Avengers, had sword fighting classes by Jack Sparrow, and fire arms training by that Navy SEAL who popped a cap up Bin Laden's anus. I ran around that PENISS System for about 12 hours straight, before I accidentally upgraded the simulation from "Class B" to "Class A," and as I was about to kill the Red Dragon in the Phoenix Cave in a high-def reenactment of Final Fantasy VI, the damn beast blew some fire on me, and melted my fucking face. It was then, as I was rolling my face on the ground in order to try and put out the napalm-like flames, that Bob From the Future told me that Class A meant "fully immersive and interactive, to the point of actual pain and pleasure being transmitted to a user's body," and that most users tend to only select that class for sex simulators and petting digital puppies. The worst part of the whole situation was that I was already out of fresh butt-cheek flesh myself, and now Cupcake calls me "Mr. Bob-Buttface." He's a little darker skinned than me too, so now it also looks like I have a strange tan. And a new giant mole on my forehead. God I hope that's a mole.
Note to self 398: 2/27/2013
I am saddened. I am depressed. I am bereaved. I am sorrowful. I am heartbroken... The once absolutely hilarious television show Community is now dead to me. I had held out hope that it could work through its 4th (and now hopefully final) season without its fired show runner, Dan Harmon (who created and guided plot points, character actions, and gave the final approval for all lines and jokes for its first 3 years), but after just a few episodes into this ill-fated season I am simply giving up.
The season premiere (where Joel McHale's Jeff Winger fought American Gladiator-style for seats for his fellow study group members in a silly history class) was so-so, but then came the "Chevy Chase in a haunted mansion" episode; the budget of which must have been only $32 and change... The hallways and rooms of Chase's Pierce's mansion were bare, flat, and looked even worse than a Saturday Night Live sketch (I'm not joking, though I truly wish I was exaggerating if even just a bit). After that was the awful Inspector Space-Time Convention episode (that I even convinced Cupcake to watch with me based on the premise) wherein no character was acting within their already established personalities, the jokes were bland and pandering, and everything that was quaint and silly about the show within the show known as Inspector Space-Time was dragged through the streets and mocked instead of having a loving tribute made in its honor.... Once again, Community is now dead to me.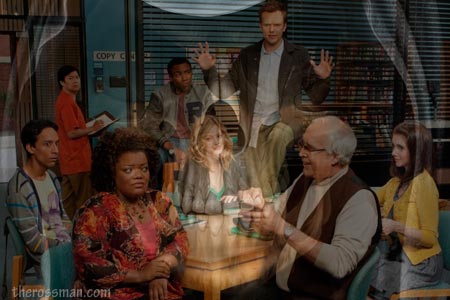 It's obvious that without Harmon himself guiding things that the remaining writers have no idea how these characters (that they've been writing for for the last 3 years) should act. What was once a shining example of how to write geek-themed humor correctly (the only show on TV other than Robot Chicken and Venture Bros. to really nail it without being condescending towards its audience) has now become a show so bereft of actual character development (or hell! Even character maintenance) that it rivals such drivel as the horrendously non-laughable Big Bang Theory (where the audience is encouraged to laugh at a character with a debilitating case of autism despite his terrible inability to adjust to normal social standards but because he references Green Lantern and Battlestar Galactica with every other line he's given... because he must be a nerd then! HA!).
Goddammit to hell... The now legendary Community D&D episode, the trapped-in-a-video-game episode, the Abed-stuck-in-his-own-claymation Christmas episode, the flashback episode to adventures we never saw, the fucking brilliant paintball storylines, the pillow and blanket fort war, the zombie-Halloween-themed episode ("Is somebody throwing that cat?!"), the Glee-mocking Christmas special, the missing pen story, and the multiverse episode are all that we have left in our memories and hearts. There will never be anything like them (in this series) again. I mourn our collective loss.
The creative death of Community got me thinking though; I started to believe that as funny as Dan Harmon's opus was under his control, I could be funnier. So I signed up for the local community college in my town, registered for Spanish 101, and as I sat there in class I tried to find six other individuals who were all extremely different from each other, but who would all look like they could provide me with an infinite amount of entertainment due to their priceless and unscripted interactions. I gathered together that 40 year-old unbathed meth-addict who can "smell crack bugs," that old widower who has nothing to live for in life anymore, that other old widower whose kids disowned him and who has nothing to live for anymore, that one widow who had nothing left to live for anymore, the super dumb jock who was too stupid to play for any real college team (yeah, I know!), and the only hot girl in the entire student body, and made them all join in my awesome Athens-Clarke County Community College (ACCCC) unofficial Spanish study group!
Well, one of the widowers and the widow died before our first study session, and so I replaced them with a high school dropout who was just auditing the class and living in the campus kitchen (don't tell the dean), and a fat guy who needs a ten minute breather after just walking in from his car (even though we're on the first floor and only 30 steps from the parking lot).
Well, before the unscripted (but casually led by me) conversations could begin, the hot chick threw her Starbucks in the meth-addict's face after he tried to stick his hand up her skirt, and the remaining widower started downing prescription pain killers, anxiety pills, and Viagra all at once until he fell into a coma while staring at the hot girl with bug-eyes and a throbbing pair of pants. That's when I stopped trying to explain that "you" in español could be either tu, usted, or ustedes depending on the number of people and how formal or how much of a dick the speaker wants to be. I sighed, got up, and walked outside after I armed the detonators to the homemade cow-dung bombs I'd hidden around the shit-stain of a school in case my plan failed, or in case it succeeded so awesomely that I wanted to end the season with a fireworks display. Then I nuked the place as I approached my car, turning the entire 2-block campus into a living Michael Bay movie. Damn though, it's really hard to not get blown onto your face while walking away from a cool explosion. Hollywood lied!... again.
Note to self 397: 1/30/2013
So, there's a new reality show out there called King of the Nerds, hosted by Revenge of the Nerds' very own Booger and Lewis Skolnick. I normally HATE "reality shows" (one of my very first articles 13 years ago goes into great detail why), except for clever ones like Joe Schmoe and Burning Love (which mock the horrible, scripted-but-passed-off-as-real, shit programs on every single fucking station out there, including the goddamn History Channel!... God I miss all their Nazi programs). This nerd show though, I just had to see it with my own eyes.
See, faux-geek series like Big Bang Theory are just goddamn awful because they never have NERD jokes (jokes that nerds find funny); instead they always have nerd JOKES ("jokes" where the geeky characters say that they like something that's considered nerdy [like, for example, "I saw something similar on Battlestar Galactica last week"] and that's the whole punchline. The audience laughs because, well, NERRRRRRRRRRRRRDS!). So although I was afraid that there would be nothing but "LOL, look at the nerd being nerdy!" "jokes" running through this thing, I was willing to give this King of the Nerds a shot simply because I had been told by the Chief that his friend Yaya Han was going to be on it as a judge or something. Yaya's cool.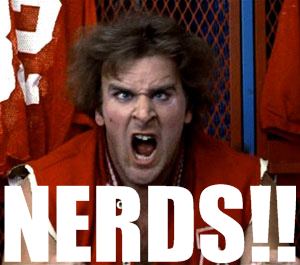 So Cupcake and I watched the 2nd episode of King of the Nerds, and surprise beyond all surprises, it was not that bad. Really. Sure, it was geeky, but not bad geeky. Just geeky geeky (meaning they got all the posters on the walls, references, and conversations right, and none of them were bad jokes at the nerd's expenses). The cosplay challenge that the contestants participated in this week (that Yaya, George Takei, and Andrew from Buffy the Vampire Slayer judged) was pretty lame (meaning the costumes that the geeks came up with kind of sucked), but it was entertaining the whole way through. And hell, one of the trivia questions during the "nerd-off" finale even stumped me! Who the fuck knew what the Wookiees' language was called?
The one disturbing aspect of the show though was the fact that I fucking KNEW every single one of the players starring in it! No, not the actual people nerding it up for very tiny amounts of fortune and fame, but I personally knew/know somebody who acts like every single one of the contestants: the cool nerds reminded me of friends from Greenwood, though a few of the scary ones gave me flashbacks all the way back to my days at UGAnime (honestly that annoying fat chick on the show who claimed to be a Batman expert and whose every single monologue interview made her out to look like she really believed she lived in her own fantasy land that completely revolved around her... that crazy, annoying bitch was motherfuckin' D.S. from the club!)! That one asshole who was a self-proclaimed "computer hacker" (I put that in quotes because I don't know one legit computer hacker who fucking calls him/herself a "computer hacker" because that's pathetic) is somebody I used to work with — somebody who has no idea how to function in society and tried his best to please people by attempting to harm others... This show hit home for me...
As a matter of fact, it made me think that creating my own reality series is JUST what the world at large needed! Only I would make one that would feature no shitty scripts, and actually have real blood and possible guts.
So I called up Carl, the MegaPlayboy, Angry Amy, the Chief, Mulder, Megu-chan, Jimmy Jammer, and the Skipper (to keep shit interesting and boozified, since he never goes anywhere without a keg of Guinness), and invited them over to my place to play Yahtzee. Once there I chained them all to chairs and just started asking them geek questions while I blasted "She Blinded Me With Science" over and over again on my stereo. Questions like "What was the name of the green space chick that Kirk banged in episode Whom Gods Destroy of the original Trek? And who did that actress play in the shitty 60s Batman TV show?" and "Who used Luke's severed hand against him in the fan-fucking-tastic Timothy Zahn Star Wars books that were 20,000-times better than Lucas' shitty prequels?"
Every wrong answer got them a branding iron with the words "NOOB," or "LOSER" burned someplace on their bodies (originally I let them choose where the brands went, but Jimmy Jammer ran out of hidden skin very quickly... Seriously, I even started tossing him softballs but he still couldn't answer shit like "What is Superman's Kryptonian name?" He deserved that "FAGGOT" scar on his forehead!).
In the end, after Mulder won the game by 42 whole points (the second highest was Carl, with 15 points and 3 headbutts to my nose), I had to figure out what to do with the players, since they were all blistering from their brandings, pissed off to high hell, and threatening legal action and violence against me (mostly because I didn't really have the punch and pie that I promised I'd serve them if they came over). So I told them that only one of them would be allowed to leave alive, threw a large knife into the middle of the circle that their chairs made in my basement, then ran for the cellar door and locked it behind me after I ordered Robot Pedro to cut their bonds and let them go free. I just KNEW they'd break the rules of the game and turn on me (which would have been against Rule #1 and Rule #10)! Then I poured gasoline all around the outside of the house and lit the sucker up. It was time for me to move anyway.
In hindsight I should have gotten Booger to host The Rossman Nerd Challenge. Maybe I'll get him to host The Rossman Nerd Challenge 2 next Fall. I'm gonna start recruiting next week!
Oh, and here's what my awesome Cupcake gave me for our anniversary this year (see below)! An actual Giant Robo production cel from episode 7, signed by Lord Imagawa himself! I can die happy now... I waited YEARS to get a cel from Robo, ever since I lost out on my bids for a few of them at the premiere Animazement back in '98!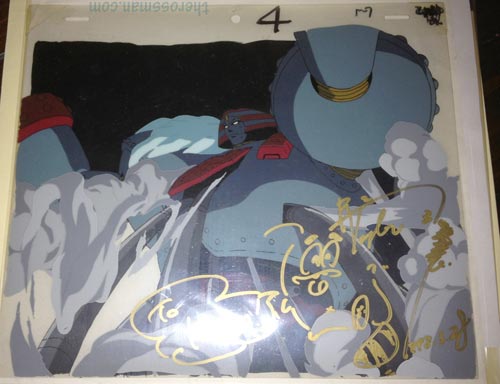 Now I feel bad about that package of dishwasher detergent and can of Pledge I got her.
Note to self 396: 1/2/2013
Well hoooooooly shit. So many things happened in 2012 that I never in a million years would have guessed would occur; Psy's "Gangnam Style" being the least of these surprises.
First of all I met Cupcake, and she actually makes me happy (who knew that was even possible!), but I also ended up getting a puppy, and the first ever therossman.com mascot, Kyoshi (who is the most goddamn adorable female Olde English Bulldogge ever made, who's named after my favorite Earth Kingdom avatar, but whom I always make talk like Triumph the Insult Comic Dog).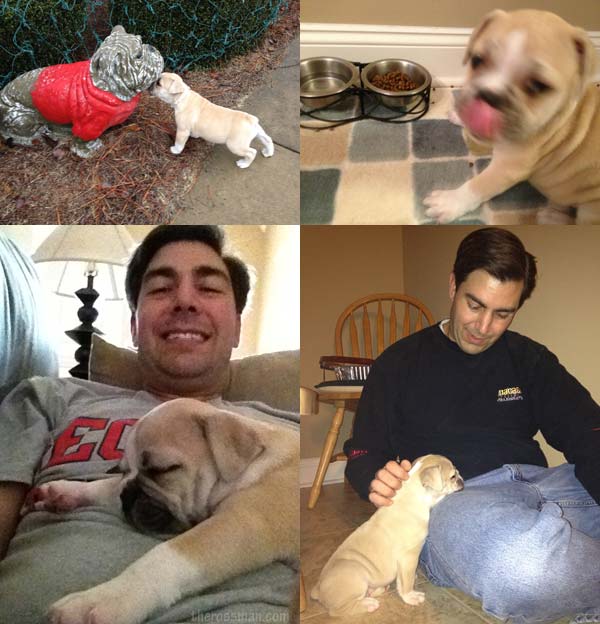 Beyond that though, the website is still up and running against all odds, but no big trips or vacations or anything in the past year. Anyway, now it's on to the things that occurred in 2012 that I just never got around to talking about due to me not finishing them (like shitty shows or books or murder-suicide pacts), or them being interesting, but me just not having enough time to cover them due to my job taking up many hours (but paying the billz), and Cupcake actually giving me something better to do rather than write words on my computer thing. So anyway, here's my Year-End Wrap Up for 2012:
PAPA NO IU KOTO WO KIKINASAI (aka "Listen to Me, Girls! I Am Your Father!"): Whaaaaaaaaaaaaat the fuck, Japan?! Oh, and all you fanboys out there who watched this whole thing and LIKED it? I hope you burn in your own special pedo-hell. This is the story of some sad sack college kid who's sister entrusts him to watch her three little girls while she and her hubby go on a trip. Their plane crashes and they die (never finished this series, but I'd be willing to bet that they didn't really die, but that the writers were just shitty hacks), and then the loser college kid has to raise these young children while fighting back the nosebleeds from seeing their panties, or covering up his boners from having them hug him... I... I seriously... Wow. Throw yourself into a volcano, Japan. We're done. You're too creepy to hang out with anymore.

SKYFALL: The newest James Bond movie was a nice change of pace for me. No silly repeat of "we have to get back what the bad guys stole and save the whole bloody world" (well, not after the first 30 minutes), but instead a tale of revenge and obsoletion. James is getting older, and he runs into one of the previous double-oh agents who kind of got the raw end of the deal when he was captured by enemy pirates or somesuch, and then makes it his business to take out the one person he blames for all the shit raining down on him in his life: M. Seriously, fuck M!

CODEX ALERA: Jim Butcher, you impress me so. Not only is this guy still cruising along with his most excellent Dresden Files book series, but I read all of his stories about Tavi and his clan in Alera in this past year, and I'm here to say that the man can write! Where as Dresden is all about wizarding in the real world, with real world implications (as opposed to Rowling's unthought-out, completely fantasy world of Harry Poofter), the Codex Alera series is about the Lost Roman Legion mixed with Avatar - The Last Airbender and Pokemon... But it's really cool, trust me. And if not me, trust Jim!

The BBC's SHERLOCK HOLMES: Stephen Moffat is on a fucking roll with British television. First, his take on Doctor Who has been amazing fun for the last 2 and a half seasons (except for the Pond's lame-ass departure in "The Angels Take Manhattan"), but we just got through the first two seasons of his modern-times version of Sherlock Holmes last week, and it's bloody brilliant! His take on Moriarty and the Hound of the Baskervilles, and Irene Adler have all been the works of genius, but then we got to the Reichenbach Fall episode... And I shit my pants over its writing and characterizations and cinematography. Can't wait for season 3 now!

HALF IN THE BAG MOVIE REVIEWS: It's no secret that the hour-plus Plinkett movie reviews of the Star Wars prequels are about 3,000Xs more entertaining than the movies themselves were, but what I wasn't expecting was that the guys behind the Plinkett shows were just as funny without the whole special-needs, homicidal, slurring freak, play acting going on. Hell, they might just be funnier without it! Their reviews of shitty movies (and even of good movies) are fucking spot on every time. Even when they find something thoroughly entertaining they can't help but tear it apart for its flaws. And I love their VCR repairmen personas. I'll just come out and say it: I want to have Mike and Jay's babies..... Oh god that felt good to get off my chest!

PSY'S GANGNAM STYLE: When The Chief first showed me this back in what, August? July? Well, whenever, I thought it was the funniest mockery of American rap videos ever produced (even topping "Weird Al's" White and Nerdy and It's All About the Pentiums for its visual hilarity), but then... Then it just got TOO popular. My parents saw it. I mean, Christ, they only go online and shit for the weather and for CNN.com. Then, when parodies of Gangnam Style (already a parody, which makes those who made a parody of it legally retarded) started hitting the web, well, that's when it became time to put the pony down with a bullet betwix the eyes. Find something new, intarwebs. Please.

CHIHAYAFURU: I was told by many people that this anime series was weird (it's about a trio of kids who like to play a battle-poetry-card game... Yeah), but that the characters were some of the best ever created for a story. Yeah, they built it up HUGE, but I was still sucked in since so many people kept saying the same thing... But, I found that the characters are just the same warmed-over repeated performances we've seen over and over since the beginning of the anime medium. Stupid pretty girl, average guy who loves her, and the guy that the stupid girl likes (who's an outsider, and kind of a douche) just play that really dumb poetry card game that I found to be incredibly boring over and over again. I made it 7 episodes, but that was my limit. That felt like such a waste of time too.
And that's it for 2012. It's now in the past, and, well, fuck it. Happy New Year, mothafuckas! Peace out! Now I'm off to watch the bestest American sitcom ever written, and probably pee my pants a little in the process.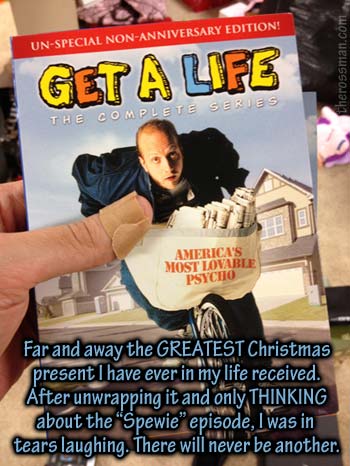 Note to self 395: 9/19/2012
I just finished up Stephen King's newest novel, 11.22.63, and was actually quite impressed that he wrote such a giant, entertaining, character-driven tale whose ending DIDN'T OUTRIGHT SUCK. I was so impressed with the ideas presented in the book (about time travel and the butterfly effect causing changes in history that one could not possibly imagine as being a result of, say, saving a certain president's life from the bullet from a commie-sympathizer's sniper rifle) that I dialed up Bob From the Future and got him to take Carl, Robot Pedro, and I back in time to see if we could avert deaths and assassinations of famous people in order to affect some changes in the future (our present). He was game, so we got started!
First up we wanted to try something relatively recent, so Robot Pedro chose to go to the Parisian tunnels on August 31, 1997, in order to save Princess Diana from dying in that car crash as her drunk driver tried to lose the paparazzi (Robot Pedro has a major robo-boner for Princess Di... I can't explain it).
So Bob From the Future brought us to that fateful, and fairly empty, Pont de l'Alma tunnel under Paris, but then Carl and Robot Pedro started to get into an argument over who's hotter: Princess Di or Kate Middleton (I thought it was a trick question since everybody knows that Pippa Middleton is the hottest)... And then, it happened. Carl pulled out his aluminum baseball bat (he keeps that, some hockey sticks, and a cricket mallet in a backpack like Casey Jones for just such an occasion), cracked Robot Pedro right in his robot melon, which then caused the automaton to stumble backwards, right into an oncoming black Mercedes... The crunch as the princess-carrying automobile slammed into the Quadrænium-wrapped robot must have been heard for miles, but the wails from Robot Pedro as he looked upon what he wrought could be heard half the world away, I'm sure of it.
We chalked that snafu up to just some terrible luck, and left before the 'razzi showed up so that nobody could pin anything on us. Then we went to our second target we planned to save: that would be Carl's choice of Hitler... Just to see what would happen. So we traveled back to that bunker in Berlin in April of 1945, and found the Führer just chilling underground, sipping a martini while his beloved German Shepherd Blondi licked off all the peanut butter he placed on his exposed wang. Seeing this caused dog-lover (but not in THAT way) Carl to go apeshit, punch Hitler out, steal his Walther PPK, and blow his fucking Nazi head off. Then he even shot the poor dog (he said to get the taste of Hitler jizz out of the creature's mouth), and then forced Eva Braun to choke down some cyanide just because. When we heard a commotion in the outside hall from a bunch of higher up Nazi bastards rushing to the sound of a couple of gunshots from their leader's chambers we had Bob From the Future transport us to the final stop in our experiment to deter one of history's greatest assassinations. This time it was my choice, and I chose to go to the 6th floor of the Texas School Book Depository Building just before noon on November 22, 1963.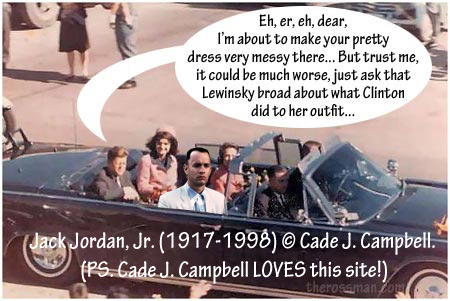 See, at this point I had come to the conclusion that history can't be changed — the way it is is the way it always was — but I still had one small experiment left to try in order to verify my findings. So I snuck up and crouched behind a box of books almost right next to Lee Harvey Oswald as he calmly aimed his rifle at the road lined with presidential well-wishers just outside, and as he was squeezing the trigger for the first time I sneezed. The shot was wide, as I remembered it. Lee looked around in slight confusion, but then quickly refocused himself to the task at hand. I then pulled out a whoopee cushion I had Bob From the Future fill up on the side, and at the instant I saw Oswald's trigger finger start to pull tight again I made the bag of wind fart like an elephant in heat. Throat shot to JFK. Oswald then looked pissed, and I took that opportunity to jump up and start dancing to PSY's "Gangnam Style" while Robot Pedro blasted the Korean pop hit from his built in mono speaker (never had the opportunity to upgrade him to stereo, let alone surround sound) just as Lee was about to fire his 3rd and final bullet at the president. He stumbled in bewilderment at my mad dance moves and crotch-thrusting, but still managed to fire the final head shot that sent Kennedy to meet his Jeebus on schedule. That's when I sighed, yanked the rifle from Lee Harvey Oswald's hands, and slugged him in the face, slamming him into the windowpane.
I high fived Carl, whacked Robot Pedro in his robot junk with a golf-swing of Oswald's rifle, then tossed the gun back to the just coming-to asshole assassin's lap, and had Bob From the Future take us back to our present time as we heard the Secret Service and police storming the building.
We got back just before Doctor Who started up on Saturday night. Nothing had changed. Our world was exactly as we had left it (and I still didn't have anything in my fridge). The past isn't obdurate, Mr. Stephen King, it's unavoidable. It always is and was. Well, except when it's not and I accidentally kill Lincoln before he became our first 6-term president and led the United States into an early technological wonderland by 1882, whereby we land a man on the moon, invent rock and roll and music videos, and create world peace and internet pr0n more than a century before we have it now. Trust me though, what we have now is still better than the Duscrani Invasion that originally occurred when Lincoln's plutonium-laced top hat (that he unintentionally left on the Moon after his second honeymoon there with Tilly [his 3rd supermodel wife]) acted as a beacon for the carnivorous world-devourers to come and enslave us all for about 60 years, until the combined efforts of the global superteam known as The Earthly Saviors (which included Hitler, Stalin, Mussolini, Emperor Hirohito, and the Most Glorious Leader known as Kim Il-sung) invented death lasers and chased the Duscrani off world, but at the cost of billions of lives. Be grateful.
Note to self 394: 8/01/2012
So 4 years ago the world lost its collective shit over the awesomeness that was the commie Beijing Olympics opening ceremony, and immediately everybody started feeling bad for London, who would be the next summer games host. The people in charge of the London games immediately started claiming to the world press that while the 2012 opening ceremonies in Jolly Ole England would not be as epically HUGE (they couldn't be) as China's show of force (with a population of 1 billion), they'd definitely be more technically amazing, and blow our minds even more than the Chinese did with their 100,000 people banging drums and marching in rhythm while Sarah Brightman sang like an angel on the top of a giant globe with fireworks going off in perfect synchronicity above the world's largest video screen that the final torch bearer actually ran across along the top of the stadium. They swore they would.
"So, did the London games opening gala match the Beijing extravaganza?"... Are you shitting me? No. HELL no. No one will EVER be able to pull that shit off again until China gets the games back in like 40 years or so.
"Well then, did the London opening ceremony at least look nice, and make any kind of sense to an international friendly gathering?" Nope. Quite the opposite in fact. The Londinium Olympic show was a goddamn train wreck the likes of which I've only ever seen whenever Lindsay Lohan and Amy Winehouse and Paris Hilton used to bump into each other and argue over who was the biggest wasted opportunity for an abortion among them. It was dumb, it was senseless, it was incomprehensible, it also took 10 minutes to hype its terribly flawed National Healthcare (seriously, what the fuck, England?), and another 20 minutes forcing us to watch two stupid "hip and happening youths" (I'm using quotes because that's probably just how the retardedly out-of-touch producers and director tried to sell this piece of shit to the Olympic Committee when it was first discussed) try to hook up and fuck (awkwardly) amidst the Disneyfied underground rave scene that they hornily traversed as it were... I wanted these kids to die in an industrial thrasher. I also wanted to have the giant inflatable Voldemort (I'm not making this shit up) kill all the Mary Poppinses that floated down into the stadium; and even though I like Rowan Atkinson in general, his Mr. Bean segment (that's right, Mr. Bean infiltrated the goddamn Olympics... Somebody should be shot) was painfully pathetic.
The one portion of the ceremony that actually made me think that things might be alright for a while was the (now famous) opening movie featuring James Bond and the actual goddamn Queen of England herself, Her Majesty Queen Elizabeth. That was cheeky, fun, and just plain silly.... Then we had the scouring of the Shire (I shit you not... They had a large pastoral field build in the middle of the arena — hills, grass, stone houses and all — and then the Industrial Revolution came and they flattened the hills, pulled out all the grass, demolished the houses, and had something like 5 giant, 6-8 storied-tall smokestacks appear from beneath the ground to start spewing forth black smoke into the air... And Kenneth Branagh read a poem and looked happy at the devastated landscape... You're weird, England)... The whole show couldn't seem to make up its mind about what it wanted to be or what it wanted to say, except "We're Great Britain, and we're really strange. Bugger off! Oh! And here's a really old and sad looking Paul McCartney singing a really old Beatles song by himself. God, that's... That's just awful, isn't it... And ever so sad."
When it was all over (luckily I recorded it and was able to watch the whole 4-hour disaster in like 1.5 hours thanks to speeding through the commercials and the Parade of Nations), I turned to Cupcake and said "Wwwwwwhat the goddamn fuck was that shit" She just looked at me and said "I never thought that an entire country could shit all over my eyes... But Great Britain just proved me wrong."
I'm ashamed to say (well, not really, but hear me out) that the opening ceremonies kind of soured me to the rest of the games... I'm a total Olympic whore junkie... Or junkie whore, whatever... My point is that an unfun, shitty start to the whole process kind of made me feel "Meh" about the rest of the 17 days of competition and glory to follow. As if somehow the spirit of thousands of athletes out to prove their worth to the entire population of the planet is now diminished and tarnished because of what some limey movie director with a big head and a £60million budget and nobody telling him "No!" did. As if it could extinguish their drive and impressive stories... Fuck you, London, and your Queen's little dogs too!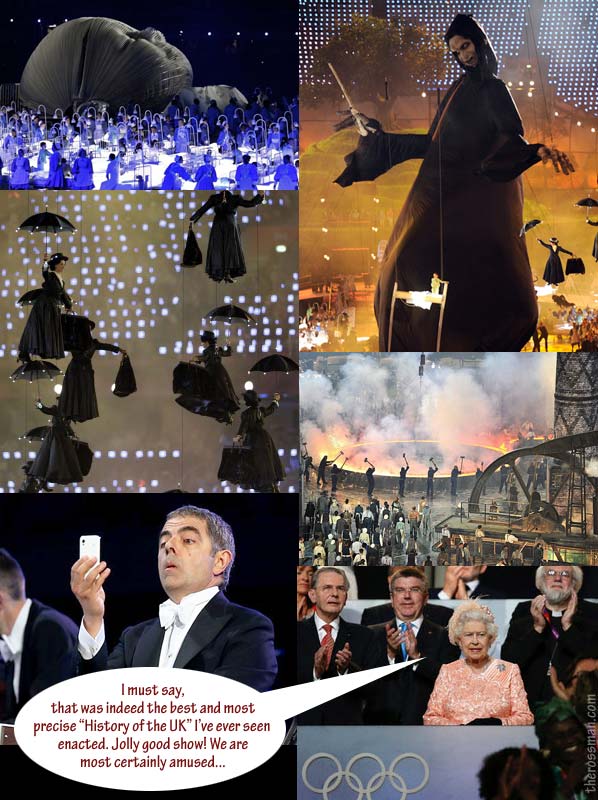 Honestly, the ONLY thing that could have saved this catastrophe would have been if they actually had the balls to do THIS: