Rossman on the Lam
(11/06/2002)
It all started out innocently enough. I swear! I showed up for work in the Latverian Oval Office one day to report to my lord and master, Dr. Doom, that exactly 1,548 kittens had just been killed in his name in order to please thunder god, Thor, so that he would not find it necessary to smite us again with his un-kitten-sacrificed wrath. It was then that Victor Von Doom saw something that pleased him. No, not my sweet (but supple) bod, but my rugged ninja shirt that I had previously used to survive E3 2001 and many a drunken, and possibly humiliating, debacle.
Ol' Vic said, "You, shitfucker, come hither. Doom wants to see your lovely shirt. It pleases Doom to no end."
"Whoa, whoa, WHOA, lord Doom," said I. "I don't think you fully understand just how cut-ass-rugged this Storm Shadow ninja shirt truly is! Sure, at one point or another in the past or in an alternate storyline you may have held the Infinity Gauntlet in your wicked hand. And I'm pretty sure you know what the Silver Sable feels like wrapped around your scarred and wrinkled body. But you are NOT ready to feel unadulterated pleasure such as this shirt can provide to the right wearer! NOBODY but the Rossman is ready for that kind of kinkiness!"
Actually, I meant to say that, but Doom had already grabbed me and begun to strip me of my most valued possession. I felt more violated than Celine Dion's evil vibrator.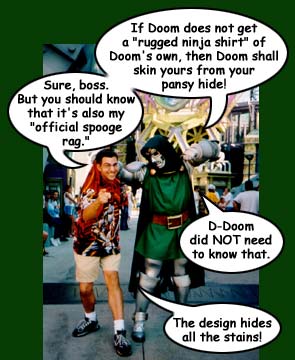 Doom sure is one aggressive mother! He seemed pretty skilled in removing the clothing off of the backs of squirming men.
At first I tried to fight back with all the dirty tricks that I knew. But Vic just kept pounding me down like the little bitch with the broken foot that I was (and apparently he also wears a steel cup to match his face). Then I tried some stalling tactics in the hopes that Spider-Man or the Red Skull would somehow come to my rescue or kill me before I was indignified further. No such luck.
It was only after I squirted the rest of my strawberry-flavored body lube down his mask's eye sockets that I was able to break free and run and hide like an 11 year-old girl on crack. But where was I to hide so that Lord Doom would never find me? Where could I be sure that I would be safe from his ever pissed and all seeing eye?