Rossman on the Lam (page 8. . .
Final Edition)
(01/15/2003)
Bill and Ted can have my children anytime! They're so cool that they can probably even find a way to make that biological impossibility happen too! First of all, their movies are two of the greatest moments of domestic cinematique to have ever been conceived, filmed and marketed to a hungry and stoned public! Second of all, I had originally thought that B&T were fictional (i.e. fake) characters, made up to give humanity hope in the darkness of our unending fight against rock and roll oppressors. Oh how I was wrong. They are real, and they sang to me. And they even had Dr. Evil, Spider-Man, Darth Vader, the Powerpuff Girls, Will Smith, Eminem, and I'm pretty sure Anna Nicole Smith join them and entertain our sorry, empty heads for a full half-hour of live entertainment! That's right! They put on something like 6 or 7 shows every night filled with explosions, nudity and profanity for all of those lucky enough to see it! How's that for entertainment!
I tried to get the dynamic rocking duo to adopt me, but security kept trying to grab my beans and Slim Jim (uhhhhh, not that it's slim or even made of cooked jerky) to get me to cease and desist. I was very thankful that Wolvie's tiny cup came in handy so soon after I ripped it from his hairy Canadian balls and buttocks!
Anyway, after the Bill and Ted Halloween Show the crew and I simply HAD to experience one of the much-hyped haunted houses that littered the landscape. Each Island had at least one, and in order to suffer what had to be the most frightening of the lot, we made a beeline straight to Dr. Suess Land.
Before we even got into the scary slum-home itself though, everybody in the group was completely spooked by the gigoongus size of the line. It seemed to zig-zag on forever. After waiting for at least 45 minutes and only moving 1/4 of the way up to the entrance of the place, both the Diva and Mehve had to call it quits and they left the rest of us to suffer frightening footpains and blistering back-aches. They most certainly chose wisely. The remaining four of us eventually made it to the front of the line (through a combination of cutting, beating up unfortunate innocents in our way, and shouting "Oh my god, there's that kid who said that people who dress goth suck gay Asian wang!" [which cleared half the amount of the freaks who were standing in our way as they all took off after the kid in the Goofy hat whom I pointed at]). What we experienced when we got into the giant stage did indeed turn my shit white with fear... just not because of the scariness of the "haunting" that Universal threw up for our amusement. I was mostly afraid that I would never get that 2 hours of line waiting back into my already sleepy and hollow life. Pisser.
We basically just cruised through the entire haunted house with Steferoli in the lead, shrieking like a banshee who just got bitten on the ass by a horny leprechaun. Most of the guys in masks stayed the hell away from us with their hands over their ears and/or their marble sacks (thanks to Psycho's and my patented "Ghostbusting Mega Nad-Destroying Maneuver"). I think it took us 5 minutes to run through that place. Zoinks!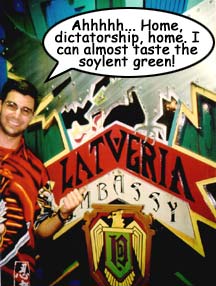 After catching Spirited Away (see below), I decided that I had to stand up for myself and face my fears just like Sen/Chihiro did. So I gathered all of my courage and headed straight over to the Latveria Embassy located on the corner of Hellmouth Way and Evil Lynn Lane.
Inside I started to get a bit homesick as I looked around at all the blood stained shackles and Doombots that littered the place like crabs on a diseased, dead hooker in the gutter with a mouth full of severed cock. Thinking about that actually made me feel a bit nauseous, and I stumbled to the loo in order to release my stomach of its cheeseburgery and brewsky contents... But right before I collapsed and almost passed out in front of the guards' desk, I heard an ABP go out on the radio for a man of my description in a cut-ass rugged ninja shirt that sounded remarkably like my own! Then I freaked and forgot everything I thought I knew about "honor" and remembered all I ever learned about "PAIN". So instead of wasting time crawling to the bathroom to heave out my innards, I blew chunks all over the stainless steel floor and then slowly creeped my way to the front door before anybody recognized me or made me clean up my bile mess that was actually eating its way through the metal. I made a mental note to watch what I ate from now on.