Rossman on the Lam (page 7)
(01/15/2003)
Then we basically left the Indomitable Universal Studios Movie Park.
Ya ain't missing much, folks. I've had bouts of constipation that were scarier than the Jaws and Earthquake rides combined. The Terminator 2 Experience was okay, but I did it before in Hollywood. Then there was the Back 2 The Future Ride.... It was almost as shameful as the Star Trek Experience that the Wolfman and I were unfortunate enough to shit away good money on last year in Vegas. Almost. And despite it being the worst movie that all of the theme rides in the park were based on, the Men in Black Shot-'Em-Up ride was, curiously enough, the most fun thing to do there. Lots of things to shoot at. But basically, that was it.
The Greenwood Crew and I then decided to chill for a little bit before the Halloween Horror Islands of Nightmares and Bed-Wetting started up that night. So we headed on over to Jimmy Buffett's Margaritaville Bar and Grill for some quick burgers and brews. All in all a tasty meal. Our waitress was even pretty cute and very forgiving. It's not every serving wench who'll continue to offer to mop up your crotch by hand after you spill salsa down your pants 5 times in one meal! For that she had my gratitude. Unfortunately for her I could only tip her in Latverian Euros. So sad.
But anywho, the Halloween Horror Nights was the whole reason we had come to Universal in the first place!... Well, besides also trying to evade and possibly come up with a plan to assassinate Dr. Doom. It's when they shut the park down for a few hours in the early evening in order to transform the entire park into a giant evil dimension of spiderwebs and fog! When the sun goes down they re-open the front gate and let the unsuspecting pantywaists back inside in order to scare the bejeezus out of them with every possible step. The fog is so damn thick in some places that unless you're holding on to somebody's hand, you will uh, not see them.... Or even like, know where they are. I tried holding on to the Diva's and Stefacronopoulis' hind quarters, but it turned out it was really Mehve and Psycho. The real horror of that incident was that it led to PW sqeezing my tooshie whenever my back was turned for the rest of the night.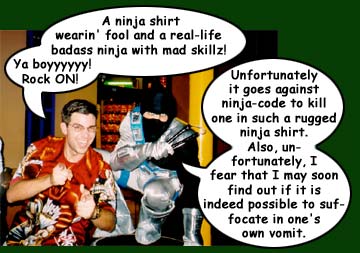 This picture is a shot of me and the "Nighttime PARTY Ninja" that I met while getting the shit scared out of me in the middle of the fog-drenched Horror Festival. He was pretty cool! He didn't even try to kill me once... Well, except that one time when I massaged his tight buns thinking he was a female ninja and he threw those shuriken at me only to impale some punk ass little bitch who kept stepping on the backs of my shoes which made me bend down to fix them when she was sliced to high hell by the inaccurate projectiles. But I like to think of it as "the ninja was trying to kill the ass grabber, not me in particular."
In case you were wondering, yes, that's how I normally think.