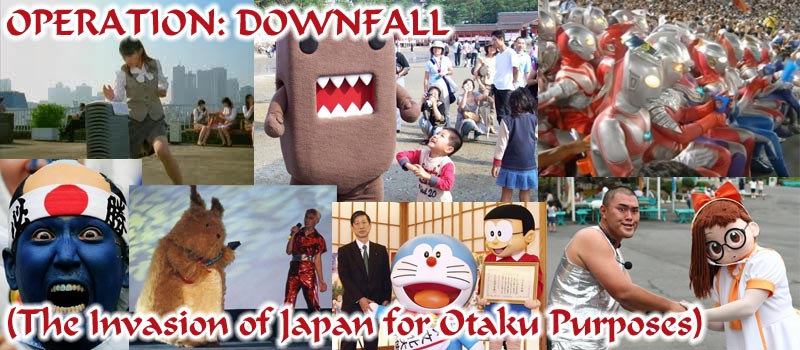 PAGE 8
Our tour group was led up to the main street level, and then across a few busy intersections, and then we saw it... The entrance to Senso-ji. Senso-ji is the stuff that Japanese dreams are made of: it's enormous, it has some really cool gates leading up to it (with huge scary statues and everything), and in the street leading from the outside gate up to the inner temple gate (for like a full 1/4 of a mile [just like how Vin Diesel lives his life!]) there is nothing but pure sweet Japanesey festival action going on! Seriously, Nakamise Shopping Street is one 365-day festival, complete with a shit-ton of tasty food stalls, stupid but awesome games (the goldfish scoop game, the duck pond game, and shoot-down-the-targets game), and more cheap and gawdy souvenir stands than you would have ever expected to see outside of Tokyo Disney. It was one of the greatest sights I had ever borne witness to... I think I bowled over half the Patels and Takeshi-san on my way into the place while hooting like the old Daffy Duck the whole way ("Woo-hoo! Woo-hoo! Woo-hooooo!"). Luckily Mehve stayed behind for a few more seconds, 'cause he was the only one who heard when and where we had to meet in order to catch the tour bus to our final stop that day.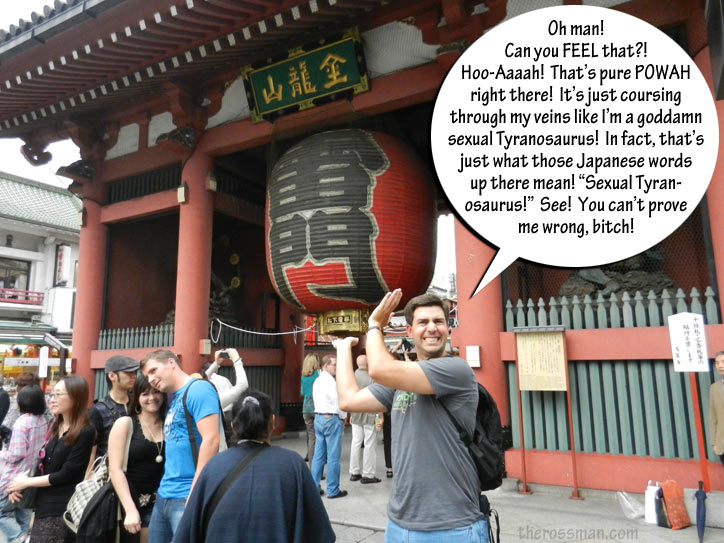 That thing was really fucking heavy.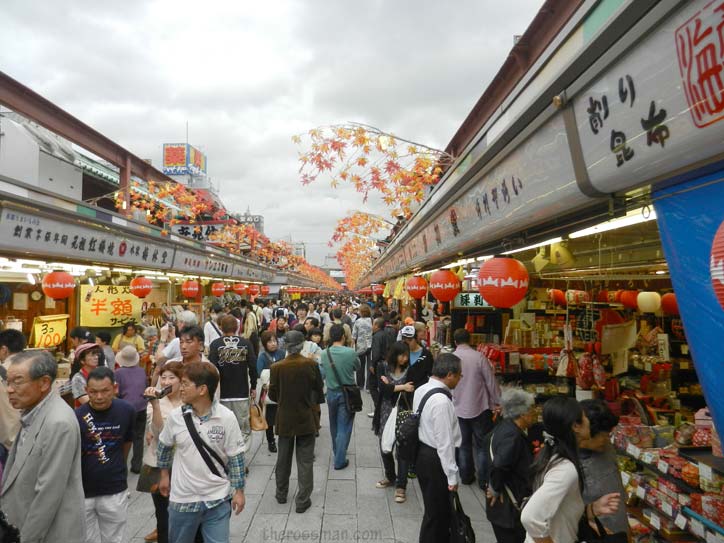 Toys, and food, and cool Japanese clothes, and strange souvenirs, and games, and pure awesomeness... Nakamise Shopping Street had it all.... And my GOD am I tall.
Nakamise Shopping Street was so fantabulous that I simply can't describe it to you on this page while doing it any justice. Mehve and I took so long just to walk the whole thing. We were stopping at virtually every stand to see what lame or great little plastic toys, clothes, and foodstuffs were being hawked. And THEN we found out that the market actually ran down perpendicular streets too and we had to walk down each of those as well so that we didn't miss a damn thing! It was down one of these back streets that we came across our first taiyaki (fish-shaped cake) of the trip! I had been dying to try one of these ever since I first started watching anime and reading manga decades ago. Mehve and I split a red-bean paste taiyaki (we had to try it seeing as the traditional ones are always stuffed with that gooey crap), but then I had a chocolate-filled fish, and Mehve a custard-filled one. We both agreed and squealed in glee that they were "Oishii!" as teenagers pointed and mocked us. Fuck 'em. They'd never understand how long we waited for those tasty cakes.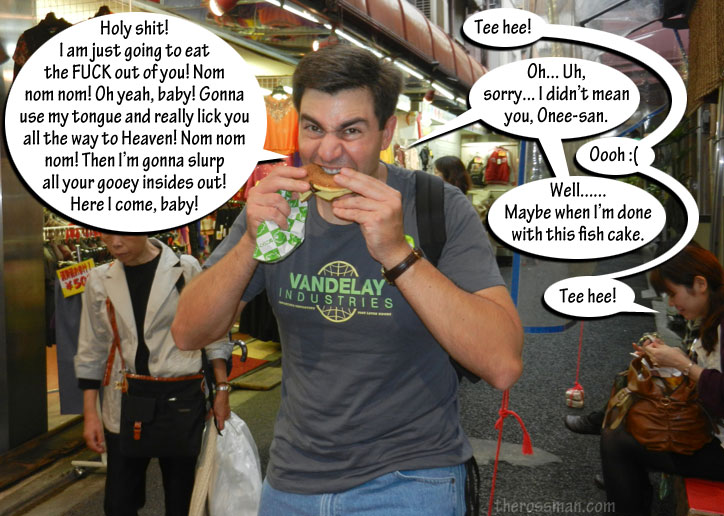 That was one of the sweetest and juiciest things I've ever eaten. The taiyaki wasn't bad either.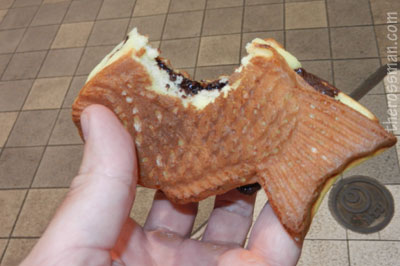 After the taiyaki we wandered the market some more, and right near the proper inner gate to the actual temple was one last row of temporary stands selling shit like corn, sweet potatoes, and a there was a place that sold sodas in strange bottles of every color of the rainbow (and even Octamarine!). I had to stop Mehve from walking into the temple as I could not believe my fucking eyes! "Holy shit, Mehve!" I shouted, almost doubting what I had spied. "That.... That (I pointed at the soda bottles), looks like fucking Ramune! Holy poo on a stick! I have to buy it! I don't care if it costs all the moneys in my wallet, I have to taste it!"
I walked slowly up to the food stall, hoping that it wouldn't vanish like Brigadoon before I could reach it, and I picked up a bottle of the bright green liquid that had captivated me like a kitten by a laser pointer. The bottle was nice and solid glass, the marble attached to the underside of the cap was there, as were the legendary indented "hooks" on the side near the top. I brought it over to the cashier and said "Ramune, onegaishimasu" in my deep "Japanese" voice.
The guy behind the register said "Meron soda, hai?" then rung me up and popped the marble down into the bottle for me, and then (with another Ramune) began to try and show the silly gaijin how to drink from the special container. I stopped him before he could begin. "Retailer-san," I said, "I've seen RahXephon, bitch, I know how to drink this stuff." Then I did, like a fucking PRO (the key is to hook the loose marble on the two nubs in the bottle near the top, otherwise the marble blocks the opening and you get no drink. Yeah, like Chi-Chi said, "Jesus. The Japanese have way too much free time."). Retailer-san was totally impressed for like 2 seconds before another customer came along. I then had Mehve capture the momentous occasion on my camera to prove that I had actually found some classic Ramune. And it was actually very tasty too! I found that I friggin' LOVE meron soda (aka "melon soda" for you slow fuckers out there)! Very sweet, but damn smooth. Now at that point I figured that if I ran across some Ramune on my 2nd full day in country it must be fucking everywhere, so instead of keeping that bottle as a souvenir, I figured I'd just recycle it and buy another bottle closer to our departure date so that I wasn't constantly lugging it around with us.... That turned out to be a BIG fucking stupid lame gaijin-sized mistake. But more on that later.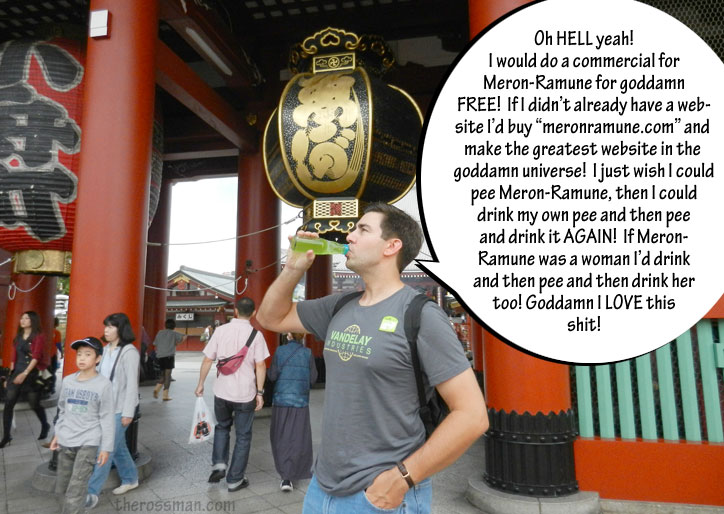 It truly is the nectar of the gods... The creepy, little, Japanese gods. I think they lactate it.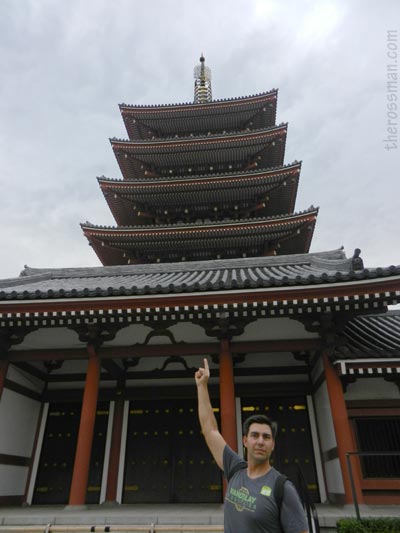 After the Ramune we finally entered the Senso-ji and were amazed. The temple is really beautiful and ornate, but not quite as big as the ones we'd find later in the trip. But still, for our first Buddhist temple it was pretty cool. It had large temple gates, a tall pagoda on the side, and lots of statues lying around wherever you looked. Mehve went all native and washed himself clean at the water station (though he didn't rinse his mouth out with the bacteria-filled standing water like the truly devout should, and like I bet him ¥1000 to do), and then he went up to the main temple and did a little prayer. Then I went up and did just like my old professor in college taught us to do: I bowed, walked up the last three paces to the bar a the temple entrance, clapped my hands twice to wake up the gods, threw my money into the offering box, then walked away backwards, bowing again until I was clear of the gods eyes... Then Mehve called me a moron and told me that that's what you do at a SHINTO shrine. I looked around, saw some little kids laughing, and I just said "Meh, fuck it. Gaijin smash." Mehve couldn't argue that and he just shrugged and agreed, "Gaijin smash."
We then went back out and walked the bazaar for a little while longer, looked for gifts for friends, found a few cool things, but then before we knew it it was time to meet our tour bus. Mehve told me what I missed when I first rushed into the shopping street ahead of the rest of the group (that the bus was behind the temple, on the complete opposite side of the holy ground than where we entered). We ran there and found Takeshi-san was already waiting for us, and it seemed that we were one of the last to arrive. We waited another 15 minutes on the bus for three or four remaining tourists to arrive, but they never did, and Takeshi-san pretty much just said "fuck it," and we took off. Apparently our last stop wasn't really a stop per se (we would drive through the Ginza district, and if we wanted to get off there we could, but the bus was then just going to drop off people at their individual hotels from there), and we were told that many people tend to just stay at Senso-ji and shop at the Nakamise Shopping Street instead of heading back early. We didn't complain. Unfortunately the Patels stayed on, and we soon learned they didn't believe in deodorant at all.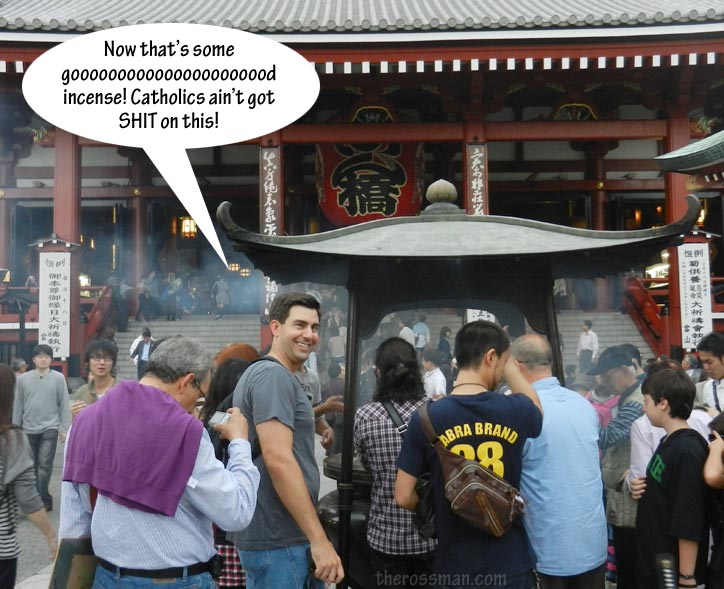 After I sucked in a lungful of that incense I started seeing teenage girls in sailor fuku running around fighting tentacle demons and giant earless robot cats traveling through time.... Japan makes sooooo much more sense now.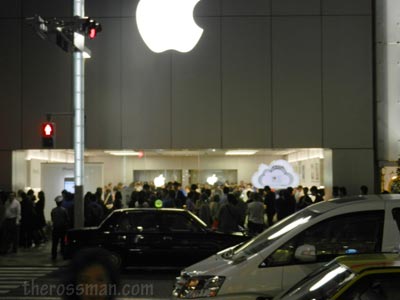 We made it to Ginza (the posh, ritzy home of Japan's high-class shopping) and Mehve and I got off the bus and started walking around staring at the pretty neon signs glowing in the twilight. I only meant to stay awhile, but we kept finding more and more streets to walk down, each with some pretty cool multi-layered shops with spectacular advertisements or window art on every floor. We even found the Tokyo Mac store, which had a super huge line of customers leading into it, and a makeshift tribute to the recently deceased Steve Jobs just outside its main display window (stacks of flowers and lots of pictures of the main man). It was pretty surreal (read "funny") to see some Japanese Mac fans actually crying and falling to their knees in front of the pyramid of roses. I mean, hey, I'm a Mac man through and through, but the guy was kind of a jerk. An obsessive, compulsive, mad genius of a jerk, true, but a jerk nonetheless. Let it go, people.
After walking for an hour we noticed that 1) it was dark, and 2) we were hungry as fuck and hadn't found any restaurants at all in the main neon Ginza section, so, as we learned after finding that small, super sushi shack on the previous day, Mehve and I started hitting the back alleys looking for something tasty (or at the very least, edible). We came across many different small restaurants along the way — and a few we marked as potential places of interest — but nothing really grabbed us. Then, down a really dinky alley, three city blocks away from the main Ginza beat, we found this one place. Mehve was all for it, but I was a little hesitant... Until I saw the poster behind the main counter that pimped "Yebisu." I believe I beat Mehve to the door by a good 10 seconds (I think the dust-form of me that I left in my wake threw him off). I had been dying to try a Yebisu ever since I first saw Misato chug one and scream out in exuberant glee in Evangelion back in 1995. I had looked for some whenever I'd gone to a new bar or restaurant, but even the places that had 1,000 beers from around the world never had Yebisu. Now I would get to taste it in its home town, and it would be good!
I honestly have no idea what that restaurant was called, but the plastic food they had in the display window out front (like EVERY fucking restaurant in town... It's just so weird) looked good enough, and the inside was larger than most of the other small, back alley places we'd come across, it wasn't crowded, it wasn't smoke-filled, and so we made ourselves at home and sat down at an empty table. When the waitress approached us (and before she could even try to speak Japanese to Mehve) I blurted out "Yebisu biru, onegaishimasu! Ni biru!" and waitress-san got right on it.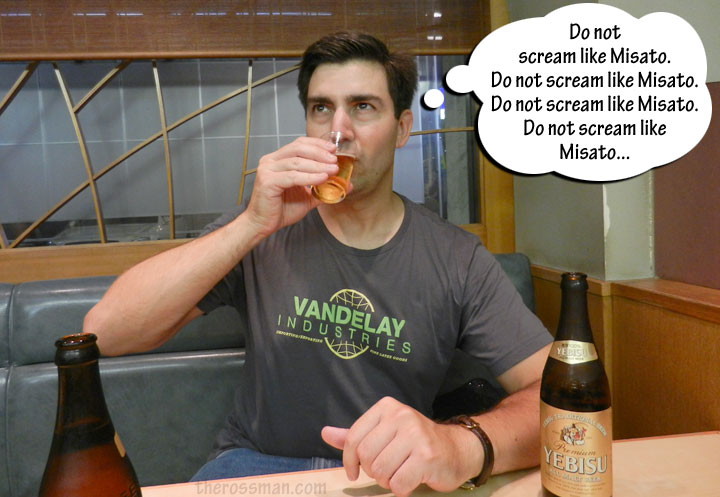 If Meron Ramune is the nectar of the gods, Yebisu is godly pee.... In a good way.
The food was good (I had egg and pork cutlet over rice, and Mehve some tempura and cold udon), the biru was better (Mehve paid me ¥200 to NOT scream like Misato having a beer orgasm), but the ambiance was the best! They had on either a radio station or an iPod hooked up to the speaker system that played anime theme songs! I was able to point out two songs (one being the Kimagure Orange Road classic "Actress in the Mirror"), and Mehve two or three himself. All in all it was a very good meal, and it made us realize beyond any doubt that back-alley restaurants seemed to be the way to go in this town (well, we knew this from other travels to other cities in the past, but this just cemented our assumptions for Japan). In case anybody was wondering or even gave a shit, the restaurant was down Suzuran St... There you go.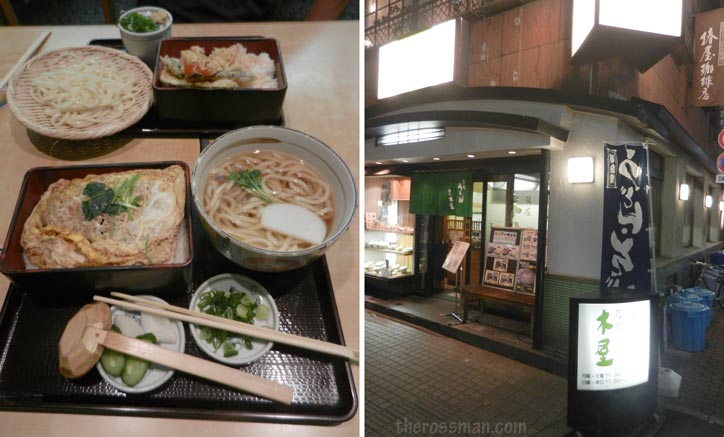 I just ate a huge dinner while typing this, but goddammit I'm hungry again after looking at this. Trust me, it was really good. Oh, and I'm drunk.
After getting totally filled up we slowly wandered back to Ginza Prime and found a subway station. In our beyond-tired state though we got on the wrong line, and that cost us another 15 minutes to correct. We finally made it back to our hotel (after a stop at the Shinagawa Station Family Mart for some more breakfast junk food for myself [Strawberry Pocky and Dark Chocolate Kit Kats]), but when we finally looked at the clock in the room we were floored... It was only a little after 7PM. It was a loooooong, constantly moving day. Still though, we stayed up a few hours longer watching celebrity bowling and Samurai Bear-san intimidate the guest panel on some weird Japanese talkshow. Yeah, calling anything on Japanese TV "weird" is just as redundant as calling your sister "infectious," but this really took the fucking cake.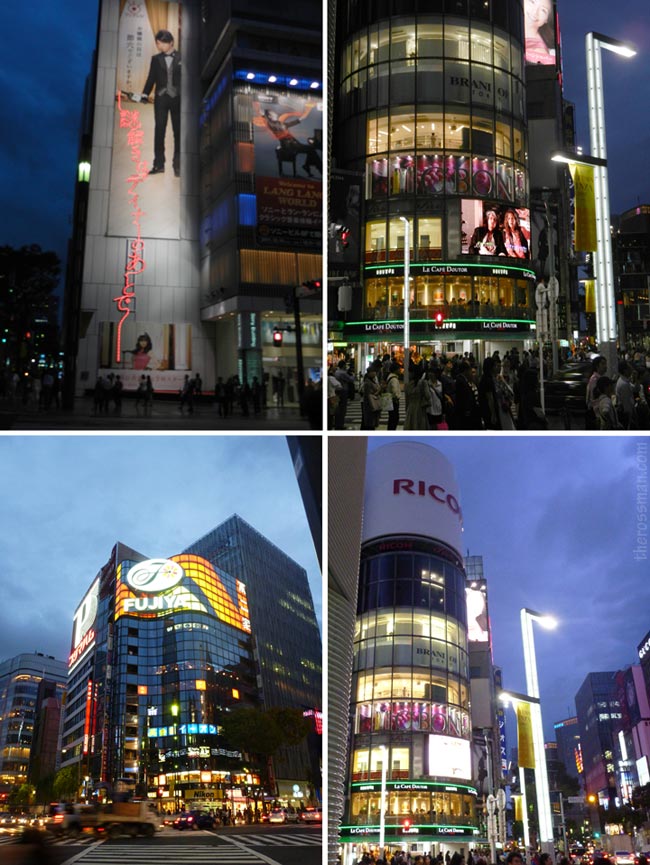 Ginza was the glitziest part of Japan we'd seen so far, and yes, that is Aerosmith on that giant TV in the upper right picture... Even though they broke up 10 years ago and Steven Tyler's now a manwhore on American Idol. I still had to take that shot just because.... They'll always be as awesome as Pump and Permanent Vacation to me...
Japanese TV for the most part is brain-scratchingly crazy. No, not because we couldn't understand what was being said (it's actually quite easy to figure out what's being talked about on all those shows with only a limited understanding of Japanese and all the reaction shots from the people on the stage), but because we could not fathom what was being DONE.
See, most Japanese prime time shows are nothing but a panel of celebrities (most are celebrities simply because they're always on the panels of these shows... An Ouroboros if you will) all sitting at some large table, and the host jokes with them for a while before he shows them some prerecorded clips of anything from how food or clothing is made, to super hyper bizarre interviews with trannies in goth-loli cosplay on the streets of Harajuku. During these clips, in one of the corners of the screen, we'll see the face of one of the panel guests as they're watching the clip so that we can see his or her wacky responses to the pure insanity occurring in the show that we're watching. It's so very meta (man, I love that word: meta).
Sometimes they'll have live stunts performed in the studio (like the celebrity bowling of that night), but we always had that panelist head in the corner of the screen making goofy faces and getting the studio audience to laugh or make loud "Oooooooo's" and "Ahhhhhhhh's."
And this one night in particular, there was this Samurai Bear standing behind the panelists on the show we were watching... And NOBODY LOOKED AT HIM, OR EVEN ACKNOWLEDGED HIS PRESENCE THE ENTIRE SHOW. Mehve and I thought that there was an unstated rule that no one was allowed to look directly at Samurai Bear-san, but when I showed the photographic proof of Samurai Bear-san to Chi-Chi he just looked at me and said "What bear?"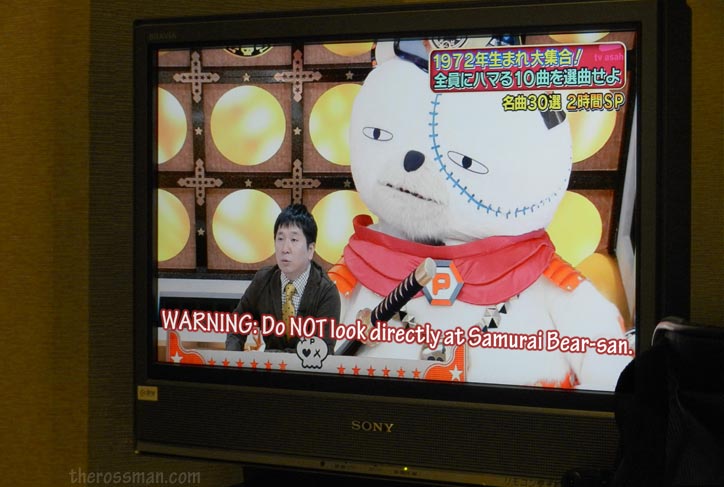 And this was the least fucked up thing we saw on TV that night.