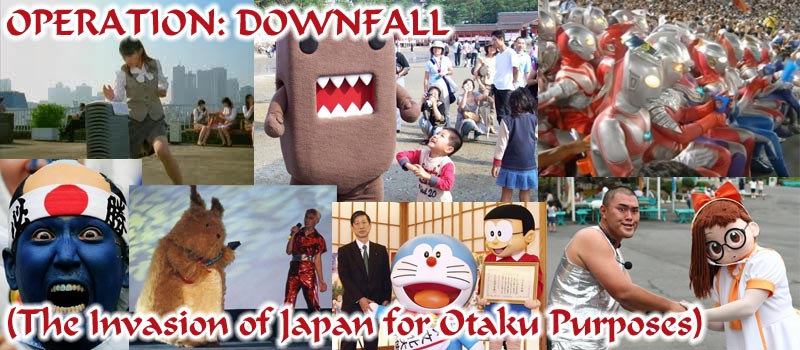 PAGE 22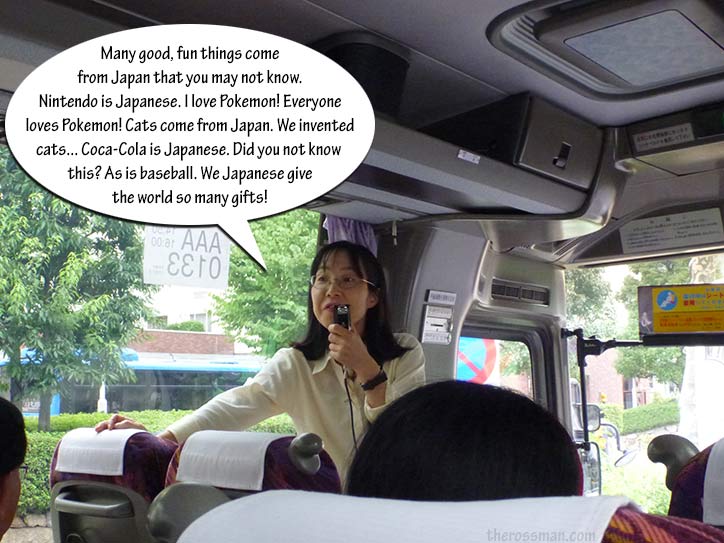 Yumi knew almost as much about the world as Fish-san did!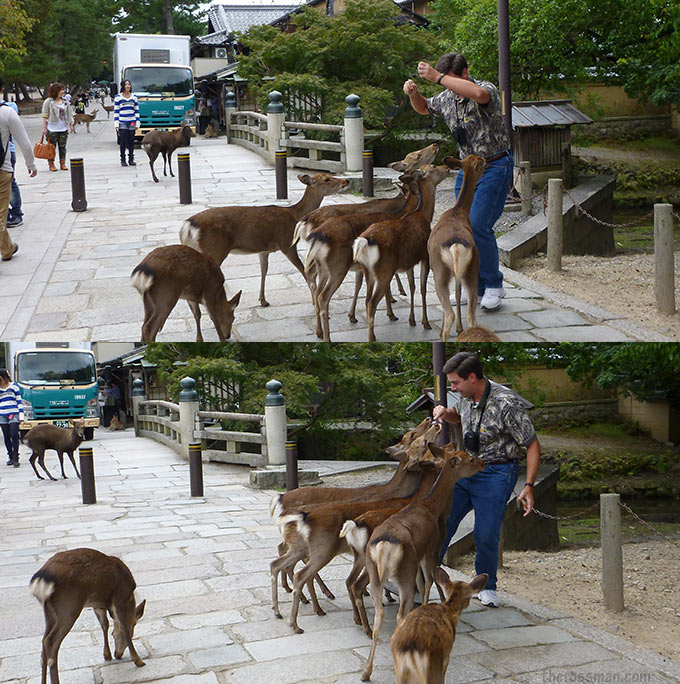 Here I am getting molested by pushy, sexy, like-to-lick-you deer. Giggity!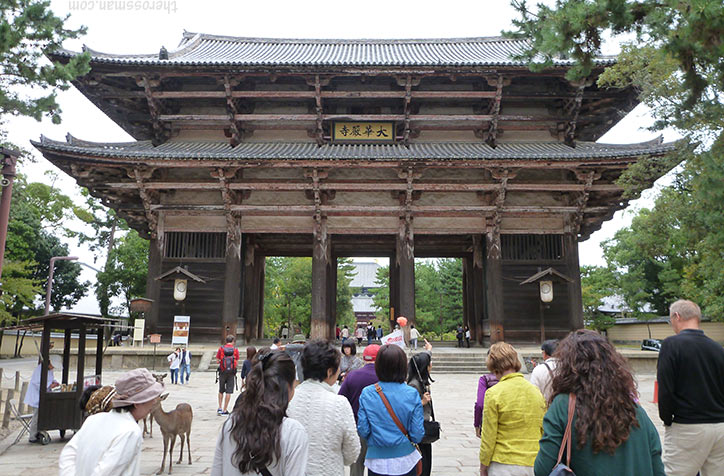 Giant Temple gates, Yumi-san... And deer.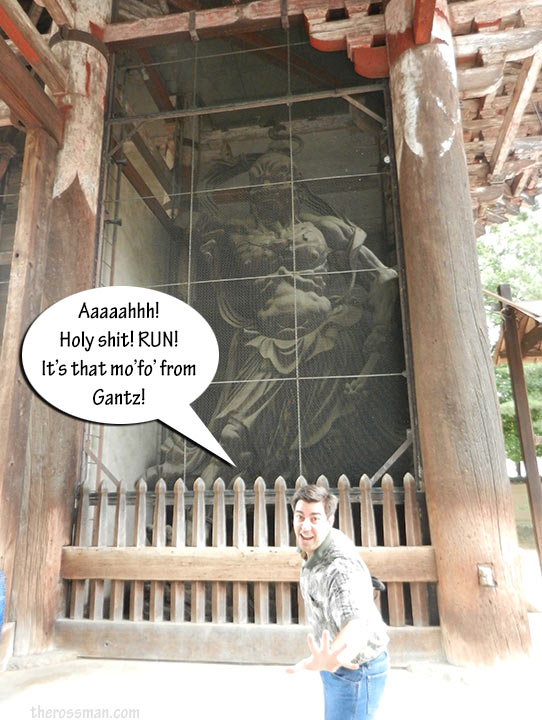 I see now why the guy who drew Gantz took these statues and made them angry, almost indestructible aliens... They are scary as fuck.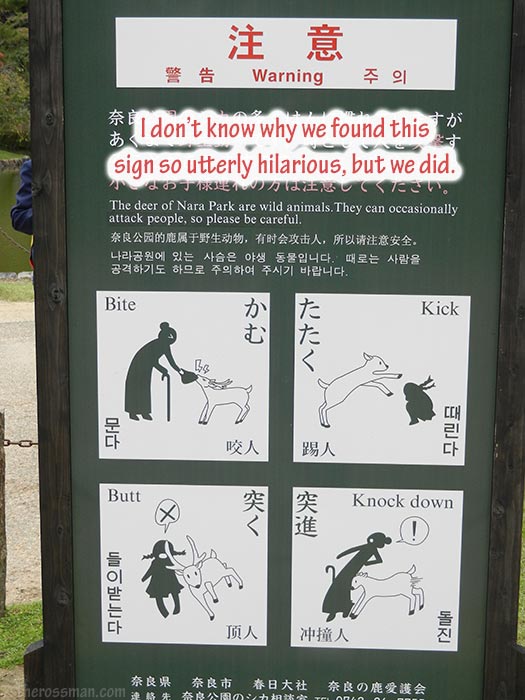 The picture of the old lady getting knocked down is my favorite.
Yumi then gathered us and told us that the Shika deer at Nara Park were sacred animals since ancient times. She told us that in the past it was a capital offence to injure or especially to kill one of the spotted creatures, and that it's extremely unlucky to even find an expired one on your property. She then informed us (and I'm laughing just thinking about this) that when local people find a dead deer on their property, they'll wait until nightfall and then quietly shove the dead lump of meat and antlers over their neighbor's fence, which is the origin of the phrase "Passing the buck." She said this with a totally straight face and totally believed it. I let her hold on to that. She was just too cute to ruin this for.
After that we then were allowed to explore some more and check out the giant Todai-ji temple grounds. We took a lot of pictures of cool miniatures, freaky statues, and the giant Buddha inside the main building. At one point Mehve had wandered away taking some more shots of the deer, but I was just absorbing the very, very Japanesey sights (like high school girls in fukus.... Don't judge me). That's when I felt a tug on my shirt, and when I turned around I found myself facing a 7 or 8 year-old boy, his group of friends behind him as if they were using him as a human shield.
The kid stared at my giant self for a few seconds before remembering that he apparently had lines. "Excuse," he started, reading from a sheet of paper. "You speak Engrish?"
"Yes," I said, trying my best to suppress a grin... It was all too cute and funny. "I speak English."
The kid sighed a bit of relief before taking a quick look back at his friends for encouragement. "Herro. How are you. I am Japanese student. Where you are from?"
I waited for him to continue, but that was it. So I began with "I am an American. Er, that means I come from the United States of America."
This seemed to confuse the fuck out of the kid. He started mumbling something under his breath in Japanese to his colleagues before somebody produced a world map. "Really?" I thought. They don't know where the United States is? We beat them in a global war, and then nuked them TWICE for good measure? But then I reminded myself that they were 7, and I pointed to the continental U.S. and said, "This is my country." They got really excited and one of the little girls in the group began furiously jotting something down in her notebook.
The main interviewer then turned back to me and asked, "Does your country have a world cultural history? Would you sign here?" It all came out as one sentence as the kid held up a form for me to sign. But before I could write anything on the piece of paper offered to me, the girl with the notepad frowned in the way that only serious children can when confronted by buffoonery, and then she smacked the interviewer on the back of his head. He grimaced, but never said anything to the girl, apparently fully understanding his fuck up. He then asked again, much slower, "Does your country have a world cultural history?"
I did everything I could to keep from laughing, including biting my lip till it drew blood. Then I replied with, "Well, my country is a relatively new country as compared to most nations in Europe, and especially such ancient cultures like China or your own Japan. Because of this, and because of our almost exponential growth in just the last century alone, we have become something of a 'melting pot' of different world cultures. For example, in any of our cities or towns you can find people from German descent running a German restaurant right next door to people from China running a Chinese restaurant, like Shampoo's grandmother does in Ranma 1/2! We also tend to take elements from each culture and merge them with others' and make them part of an unofficial national culture. But as for the world stage, no, I would not say that we have a world cultural history beyond that of a delicious global stew of culture." I thought it was the most times I'd ever even heard the world "culture" in a 2 minute period — even topping any Zentraedi scene in the original SDF Macross.
Now I knew my answer went right over their 2-year, basic English class education, I was just amusing myself by being a jerk. The kids' faces were stunned, and the girl with the notebook just stared at me like I told her that Gojira was her father. After a few seconds of them gawking I said (slowly enough for them to comprehend), "Iye. The United States does not have a solid world cultural history." That satisfied them, and then the main interviewer offered me the form again to sign. I put my autograph on it and they all turned in unison to leave.
The children all walked away as Mehve came up to me (laughing his ass off and showing me the pictures he took of our exchange), when the girl with the notepad stopped the main interviewer, whispered something to him while pointing back at me, and then he ran towards us holding out a small construction-paper card, which he handed me with a "Sank you!" before bolting again.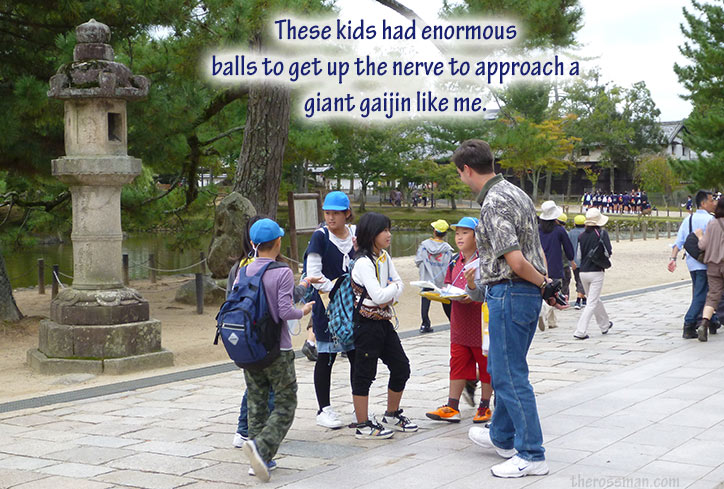 It was by far the cutest thing that ever happened to me on this trip. That includes meeting Pikachu and teaching that one Japanese baby to say "Rossman, daisuke!"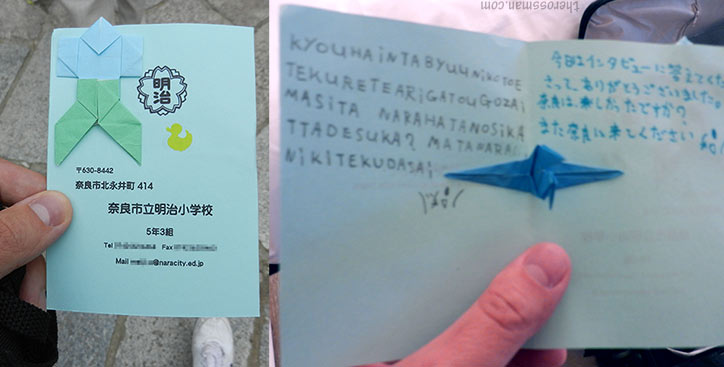 Here's the card that they gave to me. If anybody can understand what it says, let me know. For reals... Don't go telling me it's the kid's review of The Legend of the Overfiend movie or anything... I won't fall for that shit... Again...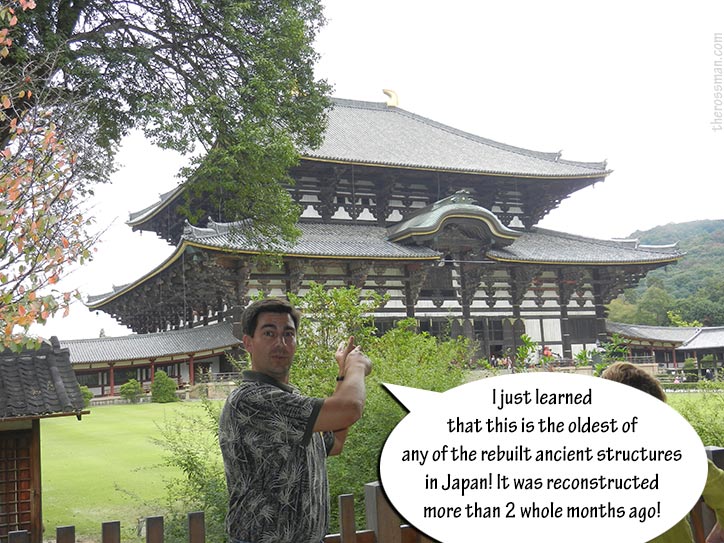 Here's the big Nara Buddhist Temple. It's big.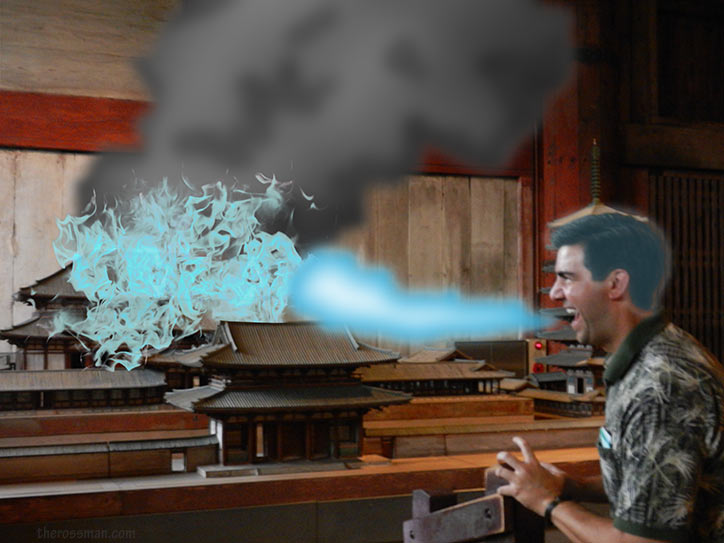 Cool miniature villages always make me wish I could burn them down with radioactive fire breath... Then my wish came true in Japan!... Must have been all that Fukishima fallout.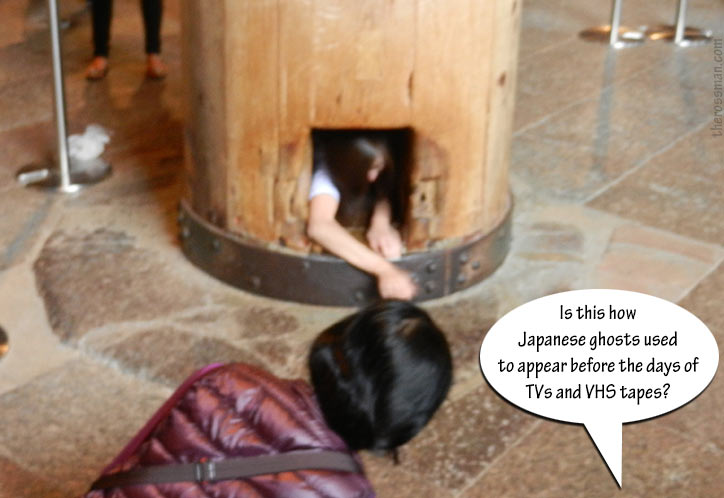 I don't remember what the point of trying to crawl through this enormous pillar was all about, but when I got stuck they had to cut the pillar open to get me out, which caused the whole Temple to collapse. I figured it just gave the reconstruction groups of Japan something to do for the next few days.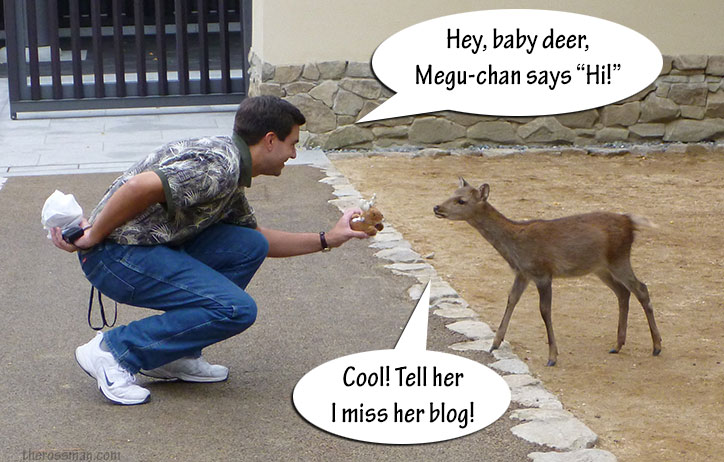 And here we have me stealing Mehve's idea of buying a baby deer stuffed animal for Megu-chan. If we ever need to clone this particular deer, that stuffed animal has it's snot on it. I'm sure that'll work.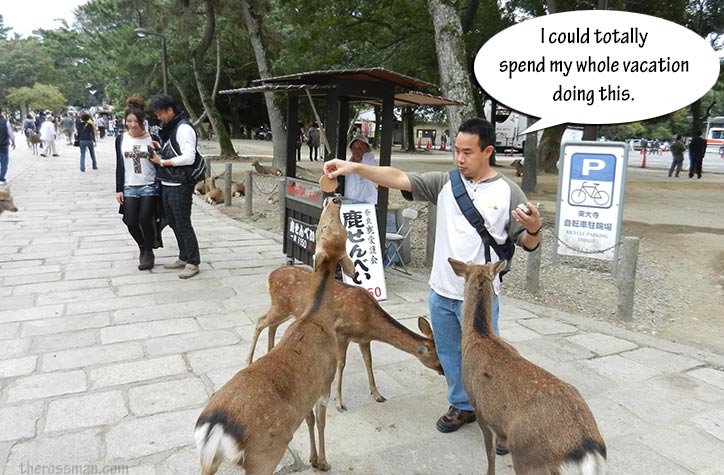 And here's Mehve right before the deer start getting a bit too frisky and Mehve asked for a few minutes alone with them.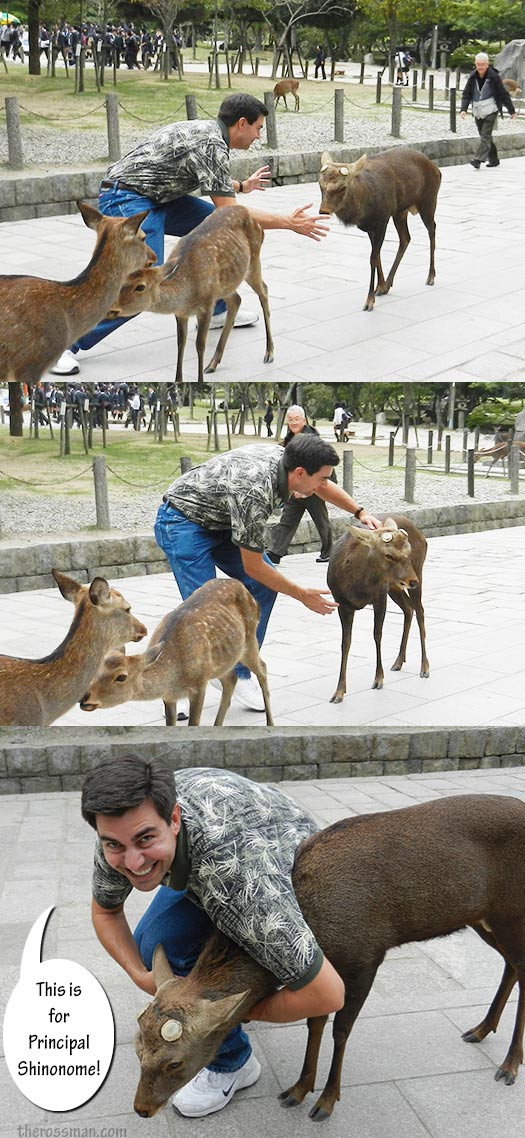 I couldn't get the deer into a suplex, but a nice, solid headlock was the best I could do for my bro Shinonome!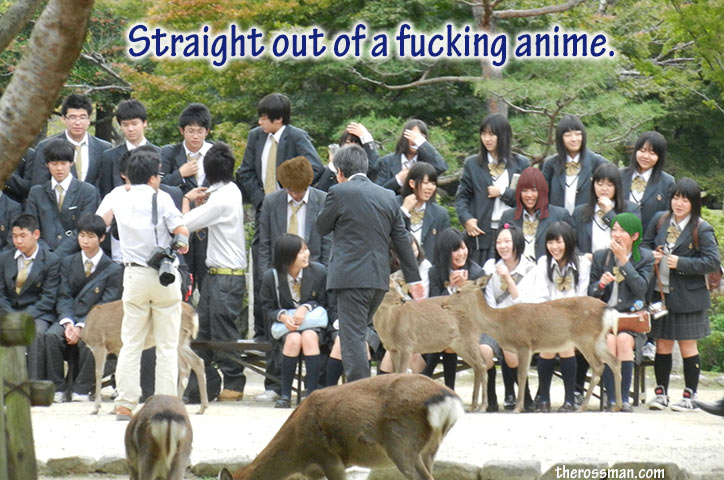 It's like I took a screen capture of any fucking high school anime show where they go on a class trip ever.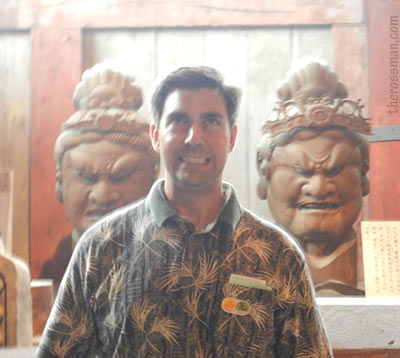 Mehve and I then met up with our tour at the specified time outside of the temple gates. After we all gathered, Yumi took us all for a guided walk through the Shinto shrine that was right next door (which I believe was the Tamukeyama Hachiman Shrine, but don't quote me on that).
There were tons of stone lanterns lining the dark paths through the grounds (the sun was starting to set at this point), a whole lot of creepy, loud, and intense Japanese crows in the trees and on the shrine roofs staring down at us (Japanese crows are like our ravens; they're huge, and super fucking intelligent as well as being the most disturbing birds I've ever seen), and a few miko walking around doing their nightly shrine maiden things. Typical Shinto shrine stuff.
By this point, everybody was pretty exhausted and we, as a group, stopped caring about anything except finding a place to sit down. Yumi got us all back on the bus while telling us more made up shit (like "Nintendo world headquarters is nearby in Kyoto! You know Nintendo, right? Mario, Pokemon? Yes? Did you know they started business making bicycles? Nintendo made the first bicycles, and when cars were invented in Japan they needed to make money because no one bought bicycles anymore. So they made video games and Mario"), and then we had one last stop at a small Nara gift shop before heading back to our Kyoto starting point. Mehve and I bought a few more snacks and stuff (Mehve bought a bottle of sake, since Nara sake is supposed to be famous or something, I dunno), but we were both too tired to really look around the shop for anything cool or to even really care anymore.