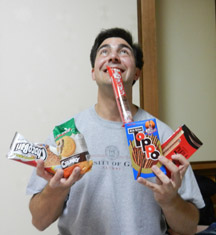 The Bat-eriffic ROSSMAN
And so we've come to this... Christopher Nolan's famed Batman trilogy (that started with 2005's Batman Begins, continued with The Dark Knight in 2008, and now concludes with The Dark Knight Rises) is no more, but it lives on in our hearts and minds. And for that I am most thankful.
See, a whole lot of movie trilogies falter after the first two successes (some would argue that The Matrix fell apart after just one movie [though not I]). And if you look at The Godfather, or Sam Raimi's Spider-man flicks in particular (films that had good beginnings, GREAT middles, but just lost what they were trying to say with their stories in the third act), it's easy to see in hindsight what went wrong, and it's kind of scary that those highly paid individuals involved with the production couldn't see the error of their ways until it was too late.
I will tell you that I was very scared that Nolan would not know how to end his Bat tale after the phenomenally strong The Dark Knight... I should have known to trust the man who introduced the world at large to the idea of "the prestige" though. The epically ginormous third act in this Batman series is a proverbial grand slam for me... at least it is once I learned to get past one glaring (godawful) error in Nolan's take on Bruce Wayne/Batman... But I'll get to that in a bit.
So anyway... Batman. After the raging success of Heath Ledger's weirdo mental take on the Joker in part 2, the world originally wondered who would terrorize Gotham in part 3 (now that ol' Heath was dancing with the Devil in the pale moon light following his heroin overdose NOT DRUG-RELATED untimely death just after shooting on The Dark Knight wrapped). The answer came in bits and pieces as snippets of spoilers, then eventually as official studio press releases on casting, and then set photos were dribbled out to the movie-loving masses at large as production commenced. The first word was that Bane would be the bad guy. Then we got word that Anne Hathaway was playing Selina Kyle! This made me worry that Nolan was overloading his story with villains — like Raimi's Spider-Man series erroneously did, and along with every Batman movie in the 90s (sans the first one). There was even a rumor that Ra's al Ghul was returning to the fray (somehow) due to Liam Neeson showing up for a day of shooting.
"Oooooh fuck," I yelled out to my fellow customers in line with me at Wendy's after I read that last bit on my iPhone. "Nolan's gonna drop the ball on this one... He's going to drop trou and SHIT all over our faces! Right into our gaping mouths! And he just ate CORN! Goddammitsomuch! Fuck my life!" That's when I stopped reading anything else spoilery about the movie (I wanted to give Nolan and his staff the benefit of the doubt, and I didn't want to hear about any plot points out of context that might work me into a tizzy). True, I was forced to watch the trailer a few times in front of a couple of other flicks, but aside from not being able to understand half of Bane's lines, the whole thing looked absolutely amazing, and I had hope again.
Then came the big release day and I got IMAX tickets for my crew and I. Then we listened to 2 hours and 42 minutes of Christian Bale's raspy Bat voice as he battled Bane and his posse for the fate of Gotham City. Then I smiled like a 13 year-old boy who just found his older cousin's secret folder of pr0n-site passwords (hidden in a sub-sub folder called "Old Trig Homework"). I was verily happy.
BAT SPOILERS
Okay, let's get to it. The Dark Knight Rises starts off with a situation that PISSES ME OFF to almost no end. I HATED The first 30 or so minutes of this movie for one reason: Bruce Wayne gave up being Batman right after the events of The Dark Knight because the police and politicians took up the call to make Gotham safe again after Harvey Dent's death (8 years previous, supposedly at the hands of the Batman himself), and now the town is pretty much major-crime free. BULL-FUCKING-SHIT! That is NOT who or what the Batman is! He'd have been out on those dark streets saving men from muggers and women from rapists because HE IS BATMAN. He CAN'T get that out of his blood! But no, Nolan has Bruce retire from the cowl because he's all heartbroken over Katie Holmes/Maggie Ghylanderhallwhore's character getting blown the fuck up halfway through the previous flick. GODDAMMIT NO! That's not who the Batman is, was, or ever WILL be! In his head the mission to keep Gotham safe is NEVER over, and Buddha knows he would never pussy out of kicking villain ass because of one dead girl. He'd power his way through it! UUUUUURGH!!!!
But, I was able to get past this part, and I am so glad that I did.
Soon an enormous evil scheme is unfurled, and it involves the buff, masked, mysterious League of Shadows dropout known as Bane; Wayne Enterprise's newest energy revolution device; a cat burglar named Selena Kyle (who is goddamn sexy and awesome and haaaaawt!); the Gotham Stock Exchange; a kidnapped Russian super scientist; a godawful prison in a third world country that's nothing more than a giant hole in the ground; and enough explosives to blow up half the city. The tactics that the big bad Bane uses to bring Gotham to its knees (financially, and psychologically) are pretty scary as all fuck (if a tad melodramatic and insane even by superhero movie logic), and this is what really started to bring me out of my "I hate this movie!!" frame of mind from the first act. See, in the comic book Bane is one smart mother fucker. He figures out who Batman is, and uses his big Bane brain to wear the caped crusader down until he's dead tired and the hulking luchador mask-wearing villain could then easily break him (both physically and mentally). That's exactly how Nolan plays him out in this universe as well.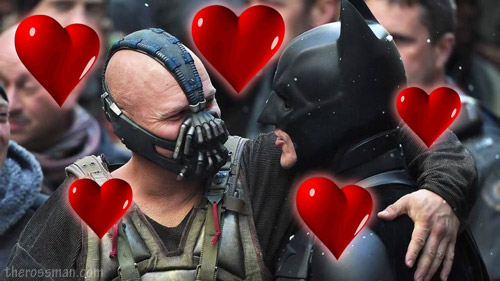 But Bane is not the only problem for Batman in this story. The entire police force is still out for his hooded head because of what he supposedly did to Harvey Dent all those years ago. Yeah, Batman eventually gets suited up again (he pretty much fucking HAS to, or this movie would have been absolutely shit dick boring), plays around with Selena, chases his loyal Alfred away, bones the hot chick who's Wayne Enterprises' only chance at keeping Bruce's parents' corporation out of the grimy hands of a douchebag known as Dagget, and he eventually leads a true blue army of law enforcers against Bane's heavily armed gang in a daylight battle royale in the snow, which is one of the absolute coolest looking brawls I've ever seen filmed (just watching the all-black-suited Batman fighting in the morning glow of daybreak on a snow-covered street... It's just so surreal, yet rugged. The Dark Knight truly rose into the light in the end... Or am I just reading too much into a badass scene?).
There are a ton more plot twists, major revelations, and no-way-out scenarios in this movie than the first two flicks combined and doubled. Plus the lessons that Bruce/Batman learns are heartfelt and an amazing payoff when we see them enacted on screen (even if they're a bit over the top... Okay, over the top like a Tsunami over the lip of a small glass of water). Everything in the gigantic ending works so well, especially the epilogue (which I can accept by admitting that this is NOT the REAL Batman, this is Nolan's Batman... The only real Batman in my head now is Dini and Timm's animated Bat, who would only ever retire once his age keeps him from having the edge and forces him to pick up a gun in order to save his own life, which causes him no end of self doubt and shame... but I digress). Nolan's world's Batman's epilogue is actually the perfect capper to the whole film series for me. I can accept that THIS Bruce Wayne's body is all broken, and that he's still penniless thanks to earlier shady dealings that stole his fortune, and that he thinks he deserves a real chance at true happiness, and he wants to allow Alfred to have a carefree life too (for whatever time that old codger has remaining on this mortal coil)... I can accept all of this because I WANT to. I WANT Batman to live a happy (if poorer) life with a good lady friend. I WANT Alfred to get some reward for his years and years of service and pain and suffering to the Wayne family. I also want young, brilliant police detective John Blake to rise up to be more than he thought he could be. I always WANT good things to happen to the heroes of my stories.... But just because I want them doesn't mean it is what's best for the character.
But whatever. I accept the ending — applaud it even — and loved basically everything Nolan did with this flick. Well, everything except that whole "daylight to full darkness in less than 4 minutes of movie time" chase sequence just after the Stock Exchange segment (the editor must have been shitting bricks over putting that portion of the film together), and the un-shot (but storyboarded) scene where Bane purposefully does not release the Joker (only seen from his mouth on down) from his jail cell along with the other prisoners put away by the Dent Act... Seriously, WTF? Are we to just assume now that the Joker was shanked in the shower one day before all this Bane anarchy kicked into overdrive?... Oh, and of course the whole "the Batman retired because he missed his not-girlfriend" thing that I bitched about earlier. I thought that was lame too.
END OF SPOILERS
I was very pleased that Nolan seemed to have wrapped up equal parts of The Dark Knight Returns, Knightfall and No Man's Land into his giant explosive finale. Yes, it was far from perfect, and it did seem a bit too IN YOUR FACE compared to some of the problems and solutions that the Batman covered in The Dark Knight, but goddammit did I enjoy it.
So, the characters, the plot, the danger, the drama, the pace, the twists, the cinematography... Everything in The Dark Knight Rises was spectacular. The only person I would not recommend this movie to is the loser who's never seen Batman Begins or The Dark Knight (you, sir, make me fucking SICK!). Everybody else, it's just what you fucking need.
When all is said and done, the only thing that really confuses me about the entire film is WHY IS BANE'S VOICE SO GODDAMN RETARDED?! First of all, it sounds like Tom Hardy's trying to imitate Sean Connery through a 1970s walky talky that's just out of range with its counterpart that Nolan was recording the dialogue off of. Second of all, I could maybe comprehend about 50% of all his lines. I think I turned to Cupcake and asked "What'd he say?!" about 12 separate instances during the movie's runtime. Seriously, Nolan? I don't care if the character has a messed up mouth and needs that apparatus for pain repression in the story itself, in a $260million movie you better make damn sure that your audience can understand the words coming out of your complex and evil villain's lips! It's not that hard. Really.