Yes, I know, these "Nigerian E-mail Schemes" are almost as old as the world wide web is. Yes, I also know that baiting these schemers is a sport that's just about as ancient as the con itself. I have been doing it myself for a few years now (sending replies back to those who try to hit me up for my hard-earned/stolen savings by claiming that if I send them some money to open up some financial international doors, they'll send me millions that they need to hide from their government or their people or their family or the mafia [or somesuch shit]), trying to see just how much I could lead them on for before they gave up on me. Most only last 2-3 letters before they're on to me, seeing as I just can't help but get ridiculous early on (there's no way I can equal the master-baiters who actually entice their would-be cash predators into acting out scenes from Monty Python's Flying Circus and sending them the videos [check out youtube for proof], but doing what I do still gives me fits of giggles, and wastes a little bit of the con people's times I hope).
Anyway, below is one such ping-pong of messages and replies between me and a scammer.
The first plea for help (and my cash stash):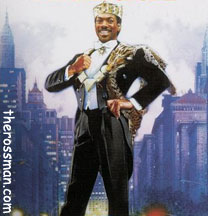 Subject: help me as God help u
From Princess Sarah Johnson
Republic Of Cote D'Ivoire

Dear one,

I come across your profile and have Decided to get in touch with you after the prayer,to see if you can help me solve my problem.My name is Miss Sarah Maria Johnson,The only child (Daughter) of late (chief Adam Johnson)Who lost his life in the course of the crisis here in Cote D'ivoire on the 7th of November last year .
MAY HIS GENTLE SOUL REST IN PERFECT PEACE!!!. My father willed in cash, the sum of $8.7 Million US Dollars which he deposited in a Fixed/Suspence account here in Abidjan Cote D'ivoire west africa in with enabling conditions for the release of the fund which are as
follows:

(1) That I must be 22 years or above.
(2) That upon request for the release of the fund,

there must be evidence of investment intentions especially outside the west africa,I contact you therefore to confirm if you can absorb me in partnership in your company or possibly advise me on any investment opportunity in your country. When I reach agreement with you, the bank will release my fund and transfer into an account that you shall nominate and I
will come over to you to commence business partnership with the fund.I expect your urgent response to assist me and I will give you detail information of the bank for your verification.

Please feel free to contact me as soon as posible.And adopt me as your daughter.

Thanks for expected cooperation.
My Regards,
Miss Princess Sarah Johnson
My Response:
$8.7 Million isn't really that much, my dear. Is that all that your father had in his funds? It might be worth it for more. You aren't holding out on me, are you?

-Pugsly Waynewright Stevenson III
Miss Princess Sarah's Reply:
Hi,
Thanks for your reply but you hold me to be unserious person and is not like that if you can come out of your mind to help me i will be happy and i will be with you as partnership for the rest of my life, the fund will be released as soon as i have foreigh partner.
so i want you to do something. waiting for your reply soon.
thanks
yours faithfully,
Sarah Johnson
(Editor's note: I love how we're already such good friends that she's already dropped the pompous "Miss Princess" title... Wait, her name is "Sarah Johnson?" I think I went to grade school with her)
Me:
My Dearest Sarah,
I am extremely serious in my will to help you in your case of need. But in order for me to invest the amount of resources and time into such a venture it would not be worth my effort unless the sum was of a considerable amount more than what you have previously alluded to.
Also, are you very attractive? I have been planning to leave my wife and 4 children for some time now, and you may be the perfect reason and chance to do so. I could help you to immigrate to the United States (do you know where Utah is? It's God's own gorgeous backyard), and after you convert to the Church of Mormon we can use your financial windfall to start a family of our own together.
Please respond as quickly as possible.

Your Lover in Waiting,
-Pugsly Waynewright Stevenson III
Sarah's Reply:
Hi,
Thanks for your mail i dont adverse you to live your wife after 4 child is not other good but if your are ready for me we have to do something serious by sending your FULL NAME,ADDRESS,AND YOUR BANK ACCOUNT from this i will deliver to the security company so as to release the fund.
waiting for your reply.
thanks
Sarah
Me Again:
Oh, dearest, don't feel bad for the cunt I am about to drop like an anvil on a coyote's head -- she hasn't put out any in the past two days and 5 hours, and I grow weary of her games.
I have your paperwork all filled out so that you can become a citizen of the United States as soon as you marry me. My divorce papers are pending as well, but first things first. Sarah, my dear, I do need to see a picture of you in order to make sure that you are attractive enough to be my wife. Yes, you bring with you a few million dollars, and that is commendable, but I require more than money in life. I do not doubt your beauty, I can sense it through your messages, but in order to put my old life (and wife and children) behind me, and start a new one and a new family with you (hopefully 6 or more children to carry on my name -- we can adopt a little Asian or African children like Angelina Jolie did if you would prefer that to creating them all within your luxurious womb), I will need proof of your elegance (my lawyers have demanded as much). If you so desire, I will send you pictures of myself as well, as that would only be fair.

My bank account information will be withheld until I get certification of your beautiful outward appearance. If you have any full-body shots, so that I can verify your pedigree and check for any unnatural scarring or celullite, those would be prefered.

Your well-hung master, awaiting your response,
-- Pugsly Waynewright Stevenson III
(Editor's note: See, I thought this one would have been the end of it, but Sarah kept sending)
Sarah's Final Letter:
Hi,
i have included for you my pictrue of my beauty, now please i need your FULL NAME, ADDRESS,AND YOUR BANK ACCOUNT.
time is growing short and i need to know you are as serious as i.
i look forward to marrying you, now please your BANK ACCOUNT.
thanks
yours faithfully,
Sarah
ATTACHED FILE: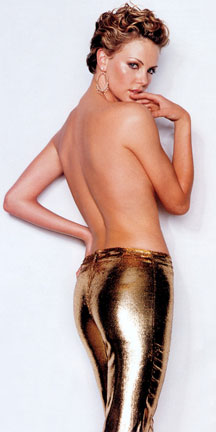 I don't know if this person posing as my darling Sarah was trying to get horny points from me (I do like how he/she/it used a gorgeous real African [and yes, fucktard, Charlize Theron is African] as the subject of the picture. Brilliant), or if he/she/it was just showing me that (s)he was on to me, but people in cubicles across the floor heard my "BWA HA HA HA!!!" when I opened that last letter. In response, I sent back some heavy, hard-core, full frontal, male nudity pics, claiming that the man with the 13 inch ding-ding-dong was me, and that Sarah better get ready for some "major womb-banging" when she got stateside. No, I'm not posting those images. Sorry.
I also sent a follow up letter when I got no reply from Sarah, claiming I had just purchased 3 copies of the Kama Sutra in preparation for her arrival in case we wore one or two of them out. No BANK ACCOUNT though, and soon I found that Sarah had blocked my email account... Sigh....