The MegaPlayboy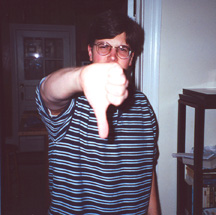 "Bitches and bullets, hot rods and mullets; rap music and throwing stars, hard alcohol and manly bars; THAT'S what the MegaPlayboy is thankful for, ya ho.
"The 'hood and my homies, the DQ and the Shoney's; speed metal music from Germany, headbanging to wonderful harmonies. THIS is what makes the MegaPlayboy happy and sappy, ya bitch.
"I tried to live life right, holy shit what an awful sight! My house was prissy and clean, but my neighbors were still pissy and mean. I had to fuck my pad up fast, for the sake of my un-black and blue ass.
"I'm thankful for my whores and bitches, and that cream that stops the burning and itches. The security system that I spent some major greens for, cause it stops those pigfuckers kickin' in the back door.
"I'm thankful for the neighborhood goat, the payoffable cops and explodable boat (it was Jimmy Jammer's lame dad's boat. Long story, ya psycho pussy!). If it make me smile, then it's all my style. Thanks galore, now suck it, ya whore."