Do you want to know what's even more annoying than simple porno ads clogging up my "inbox"? It's Junk Mail from other people. I'm not just talking ads for Viagra or how to buy stocks through "www.flush-yourmoney-downtheshitter.com", I mean mail sent to me by mistake. Family photos of indecently ugly families. Responses to E-Mail sex that I never made. Invitations to parties (really crappy ones I found out) of which I'd never met the host in my entire sober life. When will it end?!
What pisses me off the most though is the fact that the freaks who invented the Net and E-Mail named all this Junk E-Mail after a song in a Monty Python skit. Because these lifeless jackasses like to sit at home on Saturday nights and whack off to "www.sheepass.com" while trading Python catch phrases with other finger fuckers in chat rooms we now have to call it all "SPAM".... Spam... That doesn't even make any fucking sense! URGH! That's probably the most annoying thing in this article. The fact that Junk E-Mail is called fucking "SPAM"! I know I have already asked this, but what is wrong with this world?! Why do we allow the weakest and dorkiest among us to choose what we call irritating things? We should just go to Samuel L. Jackson and describe things for him to name.
ME: "So, what would you call all that irritating E-Mail that one gets that annoy the piss out of oneself?"
SAM: "I'd call it 'Mutha Fucka Shit Eatin Kiss My Ass Mail'. That's MoFoSEKMAM fo' short."
ME: "I see. So, what would you call Barbara Streisand?"
SAM: "Goddamit, white boy! Don't be mentioning her!! You almos' made me lose my lunch!"
Then he'd probably just kick my unworthy ass and throw me out a window. Sam is da man!
(Go back to the first page if you wanna, whore)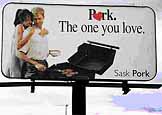 The last "stupid, yet funny and NOT annoying" pic I had. This one even has a message. As if I needed a sign to tell me to do it.
---
Note from the Editor:
Did you wonder why the Rossman didn't cover anything in the paragraph where he talked about Boy Bands? It's because he's the president of 98 Degrees' fan club and he was afraid that he might let some incriminating evidence out if he started to open his mouth and make fun of them.
As to why he seems to be on the list of every major porn site's mailing list? Well, let's just say that it's payback for trying to pretend that my mom was Stifler's mom in American Pie. The debt is still far from repaid.
Go to the EXAMINER Homepage