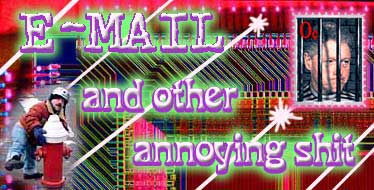 (Note to readers. The midget with the fire hydrant in the above picture is not part of the "annoying shit" referred to in the title. It is in fact the only "cool thing" on this page.)
Stupid Things
(1/22/2001)
There are many things in life that can be considered "stupid" (For example: One of my friends spends a lot of time wondering what Gilligan's complete name is; The fact that the Post Office constantly raises prices on postage stamps then wastes shitloads of money on advertising; and the WB). Stupid things in and of themselves can be tolerated and avoided. Just ask my "Gilligan" friend or the WB "network". They will tell you that I stay the fuck away from each as if they were the plague, of which I'm 86% sure that the WB is a carrier of.
But, there are some things that are both stupid and annoying beyond all comprehension. There's really no good reason for their existence other than to piss non-inbred people off. What makes these stupid beings, entities or objects so much more idiotic than others to cause them to be "baseball bat to the head" vexatious is the fact that they cannot be avoided. They are problems that one can't run away from.
You see, since the beginning of man there have been but only two instincts that have shaped our evolution and the path that our ancestors have chosen in order to create the civilization that we now so crapulantly enjoy. And the previously mentioned "annoying and stupid shit" has totally and utterly countered one of them, which can only lead to total chaos. The two instincts I speak of are "Fight or Flight" and "Screw the Woman With the Biggest Jugs". The one that is in danger is of course "fight or flight" (Chasing after large breasted tail will never be in danger as long as I'm alive).
You see, whenever we as humans come into contact with something that frightens us or endangers us or our family we have a wussy-like tendency to run away from it. Only tough guys with stupid girlfriends who goad them into confrontation all the time to prove their valor try to fight these urges... and even they usually fail miserably and run like a Chihuahua with its tail between its knobby legs.
But there are now evils in this world (man made evils as we are apparently our own worst enemy) that we cannot run from as hard as we might try. This is because they are EVERYWHERE. In some sort of masochistic ass whoopin' on ourselves we have created and opened our own Pandora's Box that we can never again hope to close. But instead of "distrust", "fear", "loathing" and "pain", we've unleashed "gay teen horror movies", "boy bands" and "junk e-mail" unto the unforgiving universe.
To the right is an example of something stupid, yet funny. Different from "stupid and painfully annoying". Stupid things by themselves are not bad things. Especially when they make fun of people like this picture. See, it shows what a perv our ex-president truly is, but in a humorous way.
The image shows the spunk-meister showing porno to children. Not only is that considered "funny yet stupid", but it's also illegal... I think. But I guess it's no worse than say shoving an illegal Cuban cigar up an intern's twat or lying to the world about said cigar. But now I'm just rambling.