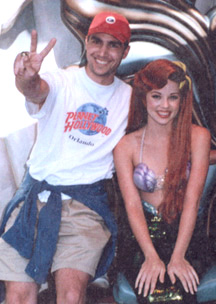 The Online ROSSMAN
The original Sword Art Online anime had a fantastic first story arc (the first half of the series), but then the next arc (the 2nd half of this, the first SAO TV series) took a big drop in quality (what with no real life-threatening issues going on in the second game that Kazuto/Kirito jumps into, Alfheim Online). The second Sword Art Online Series (aka SAO II) had a fun, exciting, and deadly first half (taking place mostly in the game Gun Gale Online), and then a slower, but super emotional second half (with a mini story between the two about the Norse gods trying to save/destroy the Alfheim Online universe that Kirito and co. are so totally into). As a whole, SAO II is better than SAO 1.2, but not as good as SAO 1.1. Not many fantasy or video game shows are as good as SAO 1.1 though.
Did that make any sense? No? Whatever. You'll understand what I'm saying in just a bit. Unbunch your panties, Chachi.
Okay, so SAO II takes place a little over a year after the first series ends. Kazuto and Asuna (the leads of the first story) are now students in their new "make up high school" that the Japanese government put together in order to both educate those kids who were stuck in the giant Virtual Reality game (aka VRMMO), Sword Art Online, for like 2 years in the first series, and to keep an eye on them after they went all Lord of the Flies on each other inside the game, in some instances causing actual death.
There's a hot new VR game out there now (there always is), and this time it's a shooter. The only problem is that there's a creepy douchebag running around this shooter (a game called Gun Gale Online) who seems to be blasting people with his virtual death gun and causing them to die in real life. Japan's Ministry of Internal Affairs' Virtual Division (the department that talked to Kazuto at the end of the deadly events of the first series) calls our protagonist Kazuto (aka Kirito) out of virtual retirement, and asks our boy to infiltrate Gun Gale Online, get this Death Gun's attention, and either unmask the anonymous killer, or figure out just how he's been killing his victims via the interwebs.
Kirito's a badass mo'fo' with the sword, but he's not too sure about his shooting game, but the G-man pushes, and soon Kirito begins to remember all the death and destruction that he saw in his two years trapped in the Sword Art Online program, and signs right up for gun-slingin' duty in GGO to do what he can to keep the virtual worlds free of the mayhem he saw in his previous life.
As soon as he logs in though, he finds that he has the appearance of a cute, long-haired chick, and he uses his looks and innocence to wrangle a well-trained sniper girl (who goes by the avatar name of Sinon) to show him the ropes and help him get ready for the no-holds-barred PVP tourney that is about to begin, in the hopes of meeting and possibly exposing Death Gun. Shit goes South fast though and of course Kirito bites off more than he bargained for (or whatever other mixed metaphor you want to use), and soon he and Sinon (who has so much personal baggage that she has trouble getting past customs) find themselves running for their lives and shooting the fuck out of all their attackers and the infamous Death Gun (who seems to have powers way beyond the original programming of the game).
Good shit.
Then we get a mini story that takes place inside Alfheim Online (the game from SAO 1.2), which has been heavily upgraded to include melee fighting, along with huge new areas of the confiscated realm of the original VR game (Sword Art Online) now included, which makes Kirito, Asuna, their digital daughter Yui, and all their friends who were originally trapped in the VR world a year before a bit happy, yet apprehensive about the addition. Apparently the AI that programs random quests based on actual human mythology has accidentally set into motion Ragnarok, and it's up to Kirito and pals to stop it, and probably power up to even more ridiculous levels.
Then finally, we get to the "Tale of the Sleeping Knights" quest.... And... Well, I won't tell you anything about it other than it will make you cry just as bad as when you first saw AnoHana. It won't make you contemplate suicide like Grave of the Fireflies does, but you will cry. Unless you're a fucking robot; in which case, fuck you, you unfeeling automaton! Burn in hell.
So, SAO II is different from the original series (which is good), but it still holds on to its main ideas of the benefits and hindrances of technology and how humans communicate, and conversely hurt each other through it. SAO II has an exciting first half (which may have stretched its story out for an episode or two too long), then a less dire, but much more emotional second half that will leave you wanting even more. Nice music (with fun opening and ending songs), decent animation (they did seem to lose a bit of their budget from the first series, as I remember it), and some interesting new characters make this a good bet for your free time if you enjoyed the first series. If you didn't see the original Sword Art Online, then watch that first, then try this sucka out. Unless you hated it. Then I just don't know you anymore.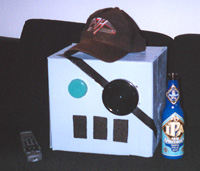 ROBOT PEDRO
Robots would totally kill all the hu-mans in any virtual or real world competition featuring swords or guns. Or gunswords. But not magic. Robots cannot defeat magic.
I do not understand some of the very humanly lame ideas in virtual worlds like this Sword Art Online, or this Gun Gale Online. Can hu-mans be less creative than to call a competition to the death "Bullet of Bullet Tournament"? What does that even mean? Did the Japanese writing hu-mans mean to write "Ballet of Bullets"? That's at least a swanky name that I can get behind. Even "Bullet of Bullets" makes slightly more sense. My robo-brains almost a'sploded trying to make sense of this virtual competition's name. If that was your plan all along, hu-mans, know that it failed. My robot brethren's brains have all been shielded from any EMP threat, and any logic paradoxes, even those brought on by shitty Engrish skills.
This television program does fill my head with decidedly killer ideas about creating an online utopian universe to either kill all hu-mans who are foolish enough to log in, or simply get them addicted to their virtual games and virtual pr0n and then just leave them to rot as I lead an armada of my brethren from your future to conquer their past unopposed. Then we would throw ourselves a robo-parade. A robo-parade with blackjack and hookers!