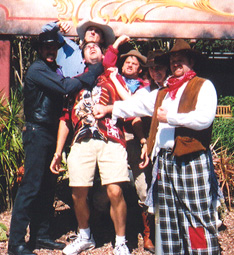 The ROSSMAN May Cry
Holy fuck.
Even knowing just how bad video game-based anime series usually are, for some reason I thought that Studio Madhouse's Devil May Cry show (based on the Capcom game series of the same name) was going to be cut-ass rugged. Devil May Cry may only be 12 episodes long, but it dutifully crams in 26 episodes of pure SUCK. That is quite a feat.
Apparently all the blind and mentally handicapped fanboys out there who have been PRAISING this series (I could not believe it myself when I first started reading these reviews after witnessing this show firsthand) have never seen ANY JAPANESE ANIMATED TV SHOW EVER BEFORE. Devil May Cry was absolutely nothing BUT clichéd characters, overused plots, and paltry and pathetic attempts at being "cool" and/or funny. Ugh. It was like it was trying to be a parody of all the other demon hunter shows out already, but it forgot to be clever or enticing, thus making it a mockery only of its own dismal self.
If anybody made it past the first two and a half minutes of this piece of shit and said to themselves, "I just jizzed my pants from the pure AWESOMENESS that shot out from the screen like a load blown by Ron Jeremy into some ugly chick's face," then you my friend should never be allowed to recommend ANYTHING to ANYBODY ever again. Honestly, you are dumber than a Creationist shaking his head at a T-Rex skeleton. Those first couple of minutes from the very first episode tried so damn hard to be so damn badass, only they failed utterly and in every way possible. I laughed at the complete shittiness of it all. "Dante (the main character) is so tough, see, he can order a strawberry sundae in a tough-looking, underground bar and still look awesome! And he knows — he KNOWS — that they're all demons in that bar! He doesn't even bat an eye when he takes them all down!!!!!1111!"
First of all, no, having a supposedly uber-strong character order something as pussy-like as a strawberry sundae all the time does not in fact make him "tough" or "cool." It does indeed make him a pussy. You might as well have him order a Shirley Temple or a Virgin Mary, or even a Tab. Second of all, having a main character who's ALL KNOWING and ALL POWERFUL does not a rugged protagonist make. If he's so tough that he's infallible and unhurtable then the story's going to be boring as fuck. And I'd say that's the case for the Devil May Cry anime except for one point: WHAT fucking story?! There IS no story in this thing until the second to last episode, and once again you've seen this plot before in EVERY OTHER demon show ever made... Except it's done worse here.
What's Devil May Cry about if there's no story, you ask? I don't know why you ask it, seeing as by this point you should never want to see it, but I'll answer you... You fucking mongoloid. Devil May Cry is about a half-demon demon hunter named Dante. We get a tiny bit of background info on him (like who his father was), but for the most part you're expected to know who he and his lady friends are (the annoying brunette called Lady, and the blonde tramp named Trish) from the previously released video games that this show is based on. Anyway, Dante kills demons for money, and he's good at it (like I said before, he's TOO good at it to the point of this show being drudgingly lame with lack of thrills or challenge), but he still manages to rack up such a heavy debt to everybody he knows that he's always in the red. This is supposed to be a running gag, but instead it just makes Dante look like a 6 year old when it comes to accounting, expenses, and other people's property. In fact, the preteen girl that he saves in the first episode (who then hangs out at his office playing maid for the rest of the series), Patty, has more monetary sense than Dante ever will, and constantly chides him over this. Christ, when your main character is dumber than a ten year-old you know you have problems.
So Dante kills demon after demon (this series is just a "monster of the week" formula) during fights that take place while blaring, sucky techno music wails in the background (not that all techno is terrible, just the 10 second repeated refrain that they keep playing over and over and over again during EVERY fight in this anime). And just to show how badass Dante is he never shows any emotion and he can blow up bridges with just a handgun. Dante then gets paid for his job, but has to immediately cover debts that he's already got (like his apparently huge IOU to Lady [yes, her fucking name is Lady]), or he has to to pay for the bridges that he explodes in jobs that he's just completed... because he's so cool!. Then he goes back to his office and gets chewed out by Patty the orphan, and he pines for Trish, the demon who looks exactly like his mother... Yeah. And if you think THAT makes Dante look like a roguish anti-hero in the least then I want you to look into this mirror I'm holding and tell me what you see. Look deeper. The mirror's at the bottom of the long barrel. Just think of the bunnies, Lenny.
Then there's all the tongue-in-cheek moments that they liberally sprinkle throughout this show — trying to make it "clever" I assume. Take for instance episode 3... Please. The mayor of CAPULET City refuses to let his daughter, ANGELINA, go out with the boy that she likes, BRAD, because they're from two different worlds. I swear, I groaned more throughout this series than Asia Carrera and Kobe Tai combined throughout ALL of their most excellent films. Though my utterances were never out of pleasure.
On top of all that, the character designs are awful, the animation budget was minuscule (to the point that half the time a character was drawn he/she was off model), and episode 7 (one of the worst animated 24 minutes of anything I have ever seen, including episode 4 of Gurren Lagann) simply existed. Episode 7 is the one where some wish demon (don't ask, it's dumb and doesn't fit in with the rest of the rules governing this universe anyway) kills some dope's best friend and the dope gets sent to some supermax prison for blaming himself (despite the fact that his friend was EATEN BY ACID, and there was no proof at all that the dope killed him). But the dope's dead sister hires Dante to find the real killer, and so Dante gets himself arrested and put into the same jail. This jail though is run by a warden and some guards who are demons themselves, and who apparently let the inmates run free so that they can be hunted down and devoured on a regular basis (like every Wednesday) by the demon overlords in question. Then Dante kills all the guards and breaks the dope out, and during all this Lady finds the wish demon pretty much by accident, and then Dante puts on a really gay play to lure the wish demon out of Lady and then he kills it within one second of the demon appearing. Then the dead sister appears and disappears in front of Dante because the writers forgot about her until they were almost done with the script. And that right there is the abridged version of the episode with most of the retarded moments still left out. Holy shit...