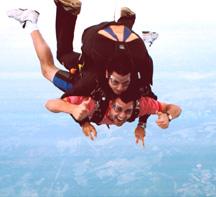 The High-Flyin' ROSSMAN
Denpa Onna to Seishun Otoko (roughly translated as "Tinfoil Hat Girl and Youthful Energetic Boy") is the spiritual successor to the incredible anime series known as Bakemonogatari. In fact, unsurprisingly, it's directed by the same mad genius who gave us Bakemono. What IS surprising (in the sense that whenever I think about it I always shout out "No fucking way! You are BULLSHITTING me! Fuck you! You goddamn liar!!!") is that the same director of these two almost perfect shows is also the retard responsible for the godawful Sayonara Zetsubo Sensei and the floating turd known as Arakawa Under the Bridge. Seriously, how the fuck does he switch back and forth between AWESOME and PUNCH IN THE GROIN, MADE FOR MORONS shows like that?
Anyway, like I said, Denpa Onna to Seishun Otoko is almost perfect. It made me laugh from the first few minutes of the very first episode (which is good, because it is a comedy), the characters were all strong, the mysteries (though not "Who shot JR?!" big, were still unique enough and kept me guessing) were fun, and the pace was absolutely perfect (which incidentally led to a marathon of episode watching for me this past Sunday). And my GOD are all the girls super fucking cute in this thing. Even Meme. Especially Meme.
On to the plot. What's Denpa Onna about? Many things actually, but the background for the show is this: High school junior Makoto Niwa is moving out of his dinky mountain town and into the big city to finish up his high school career at a school "with more than 10 girls" enrolled. His parents have transferred overseas due to work, so he moves in with his (hot, super-bubbly, but almost completely insane) Aunt Meme, who already lives in the city. Upon entering her house for the first time though he notices somebody almost completely wrapped up in a futon mattress, with only her legs sticking out, lying on the floor. Meme simply tells him to ignore her. The futon-girl is Erio, Meme's daughter that she's kept hidden from the rest of her family (for mysterious reasons) since she was born. Erio is absolutely gorgeous, but she's got mental and societal issues that would make Sigmund Freud curse and burn his couch over.
See, the previous year Erio disappeared suddenly without a trace, then 6 months later she just as mysteriously reappeared, floating in the ocean just a little bit away from her home. She has no memory of her time away, and has since convinced herself that she's either been abducted by aliens, or is in fact an alien herself, and she feels the need to wrap herself up in her futon because she broke her leg while trying to fly her bike off a cliff once... Alien logic — just go with it. Because of her anti-social behavior, Meme took her out of school and allowed Erio to become a shut-in hikikomori, only wandering the town on a rare occasion, and always wrapped in her futon.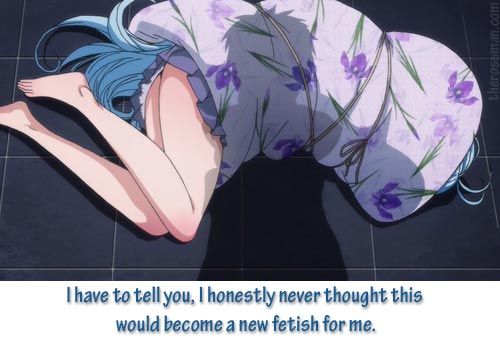 This is what Makoto comes into. Makoto's the kind of kid who wants a super big fun adolescence, and he'll do anything to make sure his teenage years are memorable... Well, almost anything. While he will try new things whenever the opportunities present themselves, he tends to give up if it looks like something will be a challenge. And so we watch Erio and her wannabe teenager mother change Makoto into a better man, and Makoto help Erio come out of her shell and baby step her way back into society. Ugh, that makes this whole thing sound stupidly clichéd and redonkulously pathetic. I apologize. That IS indeed what happens, but it's the HOW it happens, and how all the characters interact that makes this series so goddamn entertaining.
On top of Makoto, Erio, and Meme, there's also the ancient woman who runs the local (and equally antiquated) convenience store, and two of Makoto's cute classmates who both have the hots for the "can't pick just one" lead character. There's a lot of sub-characters too who have some rather important things to say or teach our protagonist, but you're better off just experiencing those for yourself. Really, if I spell everything out for you, what's the point of you watching this thing at all?
The humor and the jokes in this show are what take it from being simply entertaining to totally brilliant. Yes, some of the situations are bizarre (like Erio wrapping herself up in a futon, and one of Makoto's "girlfriends" always doing weird cosplays for no reason), but the jokes are typically all subtle. There's no pie-in-the-face slapstick or anything that could really make this world seem like it couldn't actually happen in real life (and personally, I think that Japan is weird enough that there must be a few people walking around wrapped in futons as I write this). All the events that take place and every last interaction is real, and sometimes heartfelt. God... I hate to use such vague words like "quirky," but that's probably one of the best words to describe this show. It is indeed the definition of quirky... As nondescript as that is.
And yes, Erio is borderline retarded most of the time, but honestly, that's what I think a truly moe girl would act like if she actually existed in the real world as anime and manga portray moe girls. And Meme makes up for any of Erio's mongoloidation by being SO self aware (and sexy) that she has become the most incredible milf I've ever come across.
As for the jokes, just to give you a taste of how low-key, but pants-pissingly hilarious they are, there's one time where Makoto brings Erio along to a baseball game he's playing in, and they notice that there's a child-sized person in the outfield wearing an astronaut suit. Erio (who up until just a few short months ago was known for walking around town in a futon, and telling everybody that she was an alien) jabs an accusatory finger at the child in the astronaut costume and feels the need to point out "that's not a real space suit." It's just a throw-away line and moment that happens behind Makoto and one of his girlfriends who are having a conversation in the foreground. It's not shoved in your face, telling you "LAUGH, damn you, LAAAAUGH!" like every "joke" from Zetsubo and Arakawa does... Goddammit! HOW does the same director understand humor so well in half the shows he makes, but completely miscomprehend it in the rest?!
Beyond all that, the opening and ending songs were... Well at first I hated them, but then I loved them. They're strange. Almost as bizarre as the main cast of characters. The Op song sounded like it was being SHOUTED OUT by a pissed off 4 year-old, and the ending felt like the singer was about to forget the lyrics as she went along. Granted, both are a perfect fit for Denpa Onna, but it did take a little while for me to appreciate them.
The only thing I really didn't like about this show was that it was only 12 episodes. When the fuck are they going to finish this story up? No big questions about Erio's disappearance, Meme's past, or what happened to Erio's father were even attempted to be answered. I now find myself rooting for the director to make more Bakemonogatari and more Denpa Onna, and I spend all my waking time trying to decide which I want first. Yeah, my life is pretty sad.