To Be a Kid Again page II

Honestly, if I ever met a mad scientist who likes to send people back in time with his DeLorean and a non-toxic "youth drink" to relive their childhood with all that they know now, I probably wouldn't take him up on it... Unless I can be allowed to invest in Microsoft and titfuck.com just when they go public.
No, what I would rather do is become a kid in this day and age. Kids today have it so much cooler than my generation did! Plus they still get to do everything that I did back in the eighties!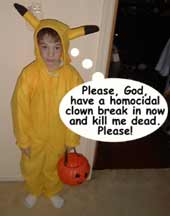 Yeah, this sad sack of shit in the image above doesn't really have anything to do with me or any normal person's childhood. He's just waiting out his horrible existence till the time when he's old enough to buy booze and a shotgun in a bold attempt to steal some of his dignity back from his sadistic parents who mock him openly to his face for being the choad that he is. Harsh? Yes. Sad? Oh yeah. Sympathetic in the least? Not even slightly. I'm willing to bet that he deserves all the psychological torture he gets for being nerdy-smart and throwing off the curve on that last Math test he took. The bastard!
Take for example, cartoons. Today's youth has Batman, Samurai Jack, The Powerpuff Girls, Cowboy Bebop and Dragonball Z (hey, don't knock it, it's still better than most of the crap I had). PLUS they can still see Thundercats, the original Transformers, G.I. Joe and Inhumanoids (trust me, it's good) on either TV or on DVD. Plus plus they will soon have the option of seeing every last episode of the greatest cartoon ever made, Courageous Cat and Minute Mouse! How's that for a full circle?
On top of that, parents today are a lot more liberal when it comes to things they allow their children to watch. When I was a kid I wasn't even allowed to THINK about sneaking into an 'R' rated movie. Trust me, my mom would have known. She could smell the bubblegum from the Garbage Pail Kids cards that I spent my allowance on (instead of banking it for a half a slice of pizza in college). So I know that she could have picked up the "lying-scent" that I'm sure I would have produced by the gallon if ever questioned about movie hopping over to the Robocop theater instead of watching both Richard Pryor and Christopher Reeve flush their careers down the shitter with Superman III.
Anyway, my point is that parents today don't seem to give a crap what their kids see. Just this past weekend the Wolfman and I went to see the Hannibal Lecter movie Red Dragon, and I would say a good 1/4 of the packed theater was kids under 15. First of all, I must state that I hope that each of those little asswipes have hellish night-terrors for weeks to come. Secondly I must point out how much I wish I could have gotten away with that kind of chutzpah when I was their age! Dammit, I was a total pussy.
This "kids in 'R' rated movies" isn't a new thing. Far from it. I'm sure that hippy parents were sneaking their children into the first showing of the first 'X' rated movie in '69, Easy Rider, as a way of skimping out of having to tell them about the birds and the bees themselves only to be very confused at the end of that hour and a half. But even up to 5 years ago I would probably only see 2 to 4 under-eighteen year-olds popping up in each violent and sexually explicit movie I'd go see. I guess we can all thank/hate Clinton and George W. for that. With their confused ideas about what's really "sex" (i.e. making the country wonder if blow-jobs and anal are really sex, not to mention what the word 'is' means) and "violence" (i.e. blowing the shit out of already stone-aged peoples). God bless our fucked up leaders.