The Rossman

*BELLLLLLLLLCH!*

Ow! My jaw... Anyway, so yeah, remember when we met Louis Gossett Jr., guys?
Mulder

You mean when he was running around trying to play dodgeball in the giant courtyard with those otaku guys? Right from the get-go you knew he was a bit wacko.
the Chief

Zoiks, yo! That was pretty damn scary when he ran up to us and started ranting and raving about how he was kicked out of playing the dodgeball game 'cause he wuz on da offensive and dey were all on da defensive. He wuz all sneakin' up on dem like a sniper! He be a 5th degree blackbelt and he was all sniper on dem. I thought he was going to do some sketchy sniper she-it on us too, but then the Rossman popped out of the Hyatt and joined us.
The Rossman

Holy fuck! Mr. Gossett rocked! He was acting all like a sniper which is always cool. I mean, he was one of the toughest fighter pilot teachers in the Western Hemisphere at one point in his career.

When I approached Mulder and the Chief, Mr. Gossett had just caught up with them. He was even looking like he was getting ready to show them some of his "5th degree black belt" moves. It was then that I knew that I had to act, and act fast. So I did the only reasonably sane thing I could with a brain half sloshed with local brews: I asked him to pose for a photo with me. The shot I got is now the logo of this page, FYI.
Mulder

Afterwards you tried to get Louis to follow you by shouting that you were going to "Kick the asses out of the fuckers" who told him he couldn't play ball with them anymore.
the Chief

Yeah, but that like totally didn't work. The Rossman went running off screaming towards the convention center, but Louis just stood in a daze wondering who was crazier, himself or our friend. I still don't know.

Anyway, after that we tried to ditch the crazy foo' but he kept following us and only left after we promised him we'd give him a dollar the next day.
Foxfur

Oh my God! Honey, you almost died!! Did you make a mess mess in your pants again?
The Rossman

Yowzah! Chief!... Nah, I don't want to know anymore.

Different topic, did anybody else see those screwed up Battle Royale kids walking around? I caught up with them when that one pud broke the "no jonsing for tentacle sex" rule and found his explosive collar doing the throat eruption thing?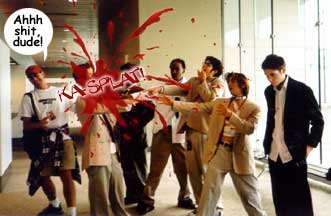 the Diva

..........Rossman, were you even at the same con as us? Or were you high and/or drunk the whole weekend?
The Rossman

Well, truth be told, a little bit o' this, a little bit o' that. It's all good. But I swear that these things happened. I mean, I still have some of that mongoloid's blood on my shirt! That shit never comes out.
Psycho Weasel

Speaking of crazies and drunkards, remember that guy who tried to get us to buy the sign language cards from him at the BK across the street? I swear I saw him respond to somebody who asked him something behind him. He wasn't deaf anymore than I'm a hermaphrodite!
Mehve

Well, dude, I've never taken a gander at you in the shower, but maybe the Rossman can clear this up for us.
The Rossman

Damn! Who should be more offended by that? Ryan or me?
Foxfur

This is getting really dumb. Can't we just cover the highlights and hury the hell up? Gilmore Girls is starting soon.
The Rossman

Oh! I almost forgot! We have a special guest today, folks! Robot Pedro, please send in the most honorable Stone Cold Steve Bennett!
Steve Bennett

OW! OW!! OOOOW!!! Watch the hair! Hey, where the hell am I? Who are you guys? Heeeey, you with the hat, don't I know you?
The Rossman

NO! I did not kidnap you at gunpoint and force you to entertain a few dozen guests by drawing naked pictures of Lum and Madoka for our guilty pleasure while we clog danced in glee and ectasy at your righteous abilities exactly 4 months and 2 days ago! And I don't appreciate the insinuation!!
Steve Bennett

Oh... Sorry, kid. Didn't mean to upset you any. I'm just confused and all and I simpl-
The Rossman

It was the Megaplayboy... I just helped.
Steve Bennett

Wha-???
the Chief

Whoa!! It's THE Steve Bennett!! Wow, dude, you are just awesome. Here, do you want to touch my fiancee?
Steve Bennett

Wha-???
Foxfur

It's okay, I don't mind.
The Rossman

Oh crap! He's getting surly again. Robot Pedro! Take the prisoner away!
Steve Bennett

Hey!! Wait!!! NooooooooOOOOOOoooooo!!!! Tell my parents that I love the-
The Rossman

That was close. Did you see how he tried to turn us against one another like that? He's a crafty one.
the Diva

Ooookay. Are we just about finished here? I mean, I think that Dane is either asleep or dead from one of those darts that your stupid robot used on Steve a minute ago. Shouldn't we do something? Does anybody here have a phone to call 911?
The Rossman

He's just faking it. Plus the walls are all coated in a special lead alloy that doesn't allow any kind of wave or light signal to pass through.
Mehve

......................................................................

...................................

................
The Rossman

Say, did anyone else get one of those free Bandai DVDs that they were handing out? Pretty nifty. Not to mention the free Newtype English language magazines. I always wondered what they said inside.
Mulder

That DVD was pretty cool. That show that came with it though had way too much CGI (or Crappy Generated Images) in it. Why do animators have to make animation 3D nowadays? I mean, just look at KOR or MI. Not one bit of computer work in either and they both rock.
The Rossman

Well, technically neither had any computers in them at all considering they were made in the 1960s or something. Get with the era, Bri. Yeah, shitty CGI should be outlawed *COUGH* Initial D *COUGH*. No argument there. But the good stuff that's integrated well with the surrounding animation has my full blessing. That Arjuna show was stylin' to say the least, but it seemed an uneven mixture of Evangelion and Sailor Moon. Boy, that sounds even weirder when said outloud.
the Chief

Hey! Everybody remember when I went to compliment Fidel Castro for being such a good painter and the Rossman took it upon himself to stick his tongue in his ear?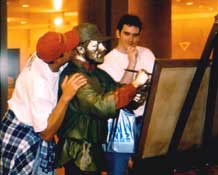 Foxfur

That sounds familiar. Wasn't that guy painting some lesbian naked women or something too?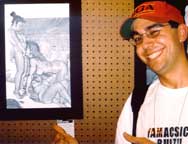 the Chief

Yeah. They were hot!
Psycho Weasel

Stuffing that painting down my pants and running off with it was the best thing I did at that con.
The Rossman

Speaking of being a raging porn addict, I wonder what ever happened to Gus. Oh, Gus, you alky six fingered bastard... We hardly knew ya!

"*BEEEEEEEELLLLLLCH!*"
Foxfur

I'm pretty sure it's for the best that we never met him, Rossman. Let's just leave the man to legend.
The Rossman

Noooooooo! I needed to meet him again in order to thank him! He changed my life! He gave me a catch phrase for Christ's sake!!! The man deserves more than a hackneyed legend.
the Chief

Sooooooooo anyway... I think that I'd like to get my final 2 cents in right now. First of all, I really have to pee. Second of all I think that Otakon 2002 was pretty cut ass rugged. Those press passes were swingin'.
Psycho Weasel

Yeah, but were we really allowed to have them? I mean, we really didn't do much pressing or passing. You know?
the Diva

Eh, take what you can get, I always say. Plus, it was nice to be able to get into the dealers' room without waiting in a line, and to be able to see some of the bigger events without sitting for several hours with the unwashed masses.
Mehve

What?! Where am I? What's this thing in my neck?
Mulder

Hanging out with the gang was fun again. The con was a bit disorganized... but that's what Otakon is all about. You know? Nothing bad. Just a bit crowded for my tastes. But I guess in order to do something less packed you'd have to go to a cheezy first or second year con. They rarely get it right.
Foxfur

Except for the drive through Washitty D.C. I had a blast. Yaya's booth in the art room was fun and I made a lot of new friends.
Mulder

You mean "stalker fanboys who gizz out whenever they see a real woman"?
Foxfur

Errrrrrr, yeah.....
the Chief

Guys! Now's our chance! The Rossman's in another drinking coma and his gay robot left the door unlocked when he took Steve Bennett away to be executed! Let's book!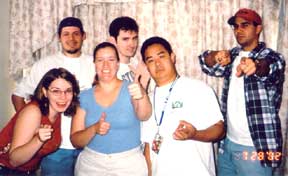 Psycho Weasel

Say, remember when we posed for that final group shot and then left the hotel but locked all of Brian's shit in it and he sat in the hallway and cried like a little girl until that old Mexican maid came along and he had to bribe her with pleasures of the skin in order to get back in the room but by then he forgot what all the trouble was about.....

That was cool.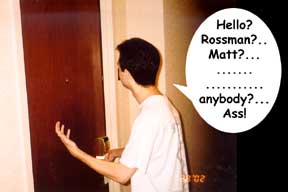 The Rossman

ZZZZZZZZZZZZZZZZZZZZZZZZZZZZZzzzzzzzzzzzzzzzzz

zzzzzzzzzzzzzzzzzzzzzzzzzzzzzzZZZZZZZZZZZZZZZZZZ

ZZZZZZZZZZZZZZZZZZZZZZZZZZzzzzzzzzzzzzz
Some time later, near the end of the tape.
The Rossman

ZZZZZZZZZZZZzzzzzz...... What?! Who?!?!

Oooooh man... What a dream..... What a cah-raaaaaaazy dream......

OR WAS IT!?!?!?!?!?!?
Jeezus Kee-rist! What more can really be said. This wasn't even a real article. It was basically the Rossman with a bottle of whiskey and a bunch of his acquaintances and a tape recorder.
I transcribed everything for the bastard too, which is why all the belching and snoring is all left in place. I thought it added realism and made the Rossman look even more like the tool that he truly is.