Rorikon and the Perversion of Japan
page 2
You see, Americans as a whole are too uptight. If some Midwestern housewife saw a bare breast flash on the tube she'd shit a brick and trip over her retarded son's toys to get to the phone to call her Congressman in order to "get the filthy filthy pornography off the air, PRONTO", without even checking the TVGuide to see that it was the Discovery Channel's mammogram special trying to save her pathetic ass from breast cancer and nipple collectors. But that doesn't matter, cause if her little Johnny had actually seen a naked booby he might grow up to be the next Larry Flint and do nothing but look at naked boobies all day.... Yeah, I can understand how not wanting your kid to be a freak paraplegic can be noble and all, but for God's sake, LARRY FLINT! She should be that lucky! The man is a forward thinker at the very least.
To back up a bit, that's where Japan is actually ahead of us. Now, I'm not talking about all that rorikon stuff (cause that would be wrooooooong and supple). Just the perversion in general. Don't get me wrong, the last thing I want is tentacle monsters in every all-girls high school or neighborhood sex-stalkers in all of the girls dormitories on every college campus across the States. I don't think we'll be ready for that for another 4-5 more years. But I am talking about being a little more open about our sexuality. The Japanese don't think that boobies in general are evil. That is the first step to not being prudes. The second step is to actually acknowledge the fact that your dad has groped and more than likely sucked on your mom's breasts on at least one known occasion in their lives. Yes, I do understand how screwed up that mentality truly is, but it's necessary... Just don't think of my parents you fucking psychos!!! That's just wrong and disturbingly deviant.
Only after everyone understands that boobies and twats and yes, even cocks are part of our bodies, and therefore not an abomination in the Lord's eyes, can we truly be free. See, in Japan they have cartoons during primetime that show long-limbed, green-haired vixens fucking lucky bastards like foxy foxes every night of the week! Hell, even afternoon shows and anime aimed at tots has full frontal nudity in them. You don't see every Japanese kid racing out to rape their classmates and steal their panties to sniff later on in their secret orgy closet of doom and touch because of this, do you?.... Wait, bad example.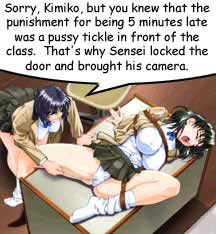 Sakura and Ataru tried to explain to me how cartoons on TV at 7 o'clock at night have explicit sex and plenty of nudity with no repercussions at all. In fact it's demanded and required by law.
The law states that each show (live action or animation) must have one count of sodomy, two counts of penis to vagina penetration and 5 "feels copped" per hour of airtime. And in the very least, 4 of those acts must be performed by or on schoolgirls.
I guess that's why so much of Japan's pornography is animated. Sooner or later, if it were all live action, every girl in Japan would have to appear in a porn film simply for variety. That would just be way too weird to see your sister or daughter, or even your mother, on the screen while you have a bottle of baby oil in one hand and a box of Kleenex Cold Care tissues in your other. There's no way you could get in the mood again for at least ten minutes after that. But with animation you can draw an unlimited amount of starlets each with bigger guns and longer gams than the last! Plus animated tentacle monsters can have more tentacles than real live ones.